Viet Nam's is keying in on sustainable development policies that target environmental protection and a plethora of social welfare programs, Vietnamese Deputy Prime Minister Nguyen Sinh Hung said at the World Economic Forum (WEF) on East Asia running in Singapore from June 24-25.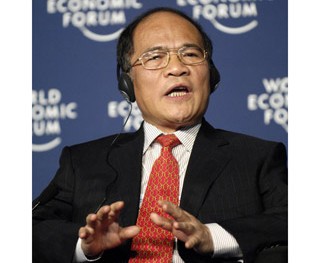 Deputy PM Nguyen Sinh Hung at the forum (Photo: WEF)
The Vietnamese representative said the targets needed to be achieved to fall into line with the rapid development of the regional economy in general and Viet Nam in particular.
At a luncheon that ran within the WEF framework and focused on Viet Nam, Deputy PM Hung spoke of Viet Nam's socio-economic achievements as well as the country's potential, policies and strategies for development.
On the sidelines of the WEF, the Vietnamese senior official also met with the WEF's Managing Director to discuss the possibility of Viet Nam hosting the WEF on East Asia for 2009.
The WEF applauded the country's development and said that Viet Nam's bid would be considered carefully in the near future.
Deputy PM Hung also met with Singaporean PM Lee Hsien Long, who said that Viet Nam's socio-economic development was a model for all developing countries and that he was confident Asia's second fastest economy would maintain its high growth rates and expand its presence among the Association of Southeast Asian Nations, the region and the world at large.
Related article:
Economic Forum Creates Chance for VN's Development