Viet Nam consumed 11,000 MW of electricity in 2005 and the figure will increase to 42,000 MW in 2015, which is four times higher than the present consumption.
It is the figure predicted by oil experts in a conference on opportunities and challenges of exploration and development of oil and gas sector in Viet Nam held by the American Chamber of Commerce.

Accordingly, industries which consume a lot of energy in Ho Chi Minh City and the neighboring areas should not be concerned about the supply of electricity for their business.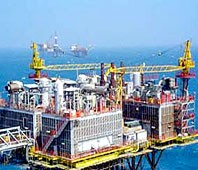 Joint Venture Vietsovpetro is an international project for exploration and production of oil and gas between Viet Nam and the former Soviet Union, now Russian Federation
However, Viet Nam should mobilize a huge amount of investment capital to meet the long-term power demands from the national development process.

It is said that local and foreign investors have big chances to provide service to and co-operate with the oil and gas industry in the time ahead.

At present, Viet Nam is under pressure to explore low cost natural gas for power plants. However, it is difficult to call for foreign investment because oil-rich potential areas were already explored and exploited. In order to encourage the exploration and implementation of costly and high-risk projects, Viet Nam should make some changes in financial articles in the investment law, especially for natural gas projects.

At present, Viet Nam is ranked as the fourth oil reserves and the third annual exploration volume in ASEAN region with 25 foreign oil and gas companies operating on 27 projects.
Related article:
Viet Nam Gas Market in Two Years: Who Does It Belong To?