The disbursement of the Government's social housing credit package has been slowed or even obstructed this year after the Ministry of Construction issued a new document defining low-income people.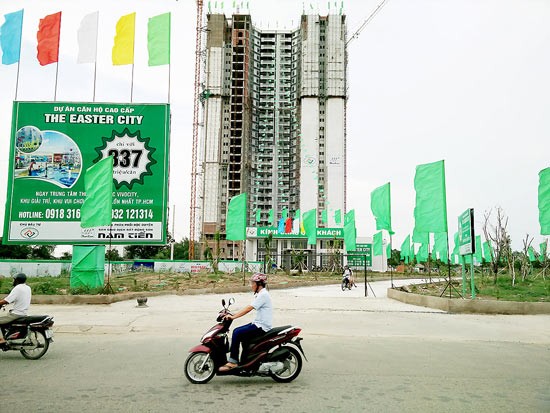 The sale of Easter City social housing project has been stagnant after the Ministry of Construction issued a new regulation defining low income people (Photo: SGGP)
Chairman of Ho Chi Minh City Real Estate Association Le Hoang Chau said that the slow or deadlock disbursement started from Document 395 passed by Deputy Minister of Construction Nguyen Tran Nam on March 3.
The document specifies that low income people are those who do not have to pay personal income tax, meaning those earning less than VND9 million (US$413) a month.
It has immediately slowed down the package disbursement, Mr. Chau said.
A heavy atmosphere has covered property projects related to the package recently.
Director General of Hoang Anh Saigon Company Doan Chi Thanh said that the purchasing power was very good last year when the company successfully linked 1,000 customers to the package.
At present, banks have rejected dossiers of over 100 customers because they fail to meet new disbursement regulations.
Citing a project in the western side of HCMC, Mr. Thanh said that an apartment is priced VND1 billion (US$45,800). Customers must pay 30 percent in advance.
The rest amount is VND700 million would be paid in 15 years or 180 months with the interest rate of 5 percent a year. House buyers hence would have to pay nearly VND7 million a month. Many have been unable to do so with a monthly income of VND9 million covering many costs including rent, water, electricity, food and others.
Therefore, this group of customers has automatically been removed from the loan list.
Mr. Thanh wondered why the Ministry of Construction has entered such a vicious circle.
When the package was jammed in 2013, Deputy Minister Nguyen Tran Nam had signed Circular 18 not requiring borrowers to prove their income level in October of the same year.
Now the new regulation determines they are those out from the group of personal income tax payment.
Director of Nam Tien Company Tu Duc Phuong lamented that since the new regulation was issued, the disbursement rate has dropped by 50 percent.
Earlier the higher income level meant the better payment ability. Now, banks have refused to loan either customers earning more than VND9 million a month or many of those earning less.
House buyers can get assistance from their parents or brothers and sisters but these groups are usually old or in school age without payment ability.
The HCMC Real Estate Association has sent two documents to the Ministry of Construction, reporting that the disbursement of the housing credit package attended by 15 banks has reached only 20 percent.
This is far behind expectations while the package will be expiring by June next year.
However, a response document from Housing Management Department Head Nguyen Manh Ha on May 15 comprised contradictory reports, saying the disbursement rate had increased month after month thanks to efforts and close coordination between the Ministry of Construction and the State Bank of Vietnam and other commercial banks under the social housing loaning program.