Many new and modern seaports have been built in the southern region in the last few years, but they are all operating at just a marginal capacity as compared to the functioning capacity they were actually designed for.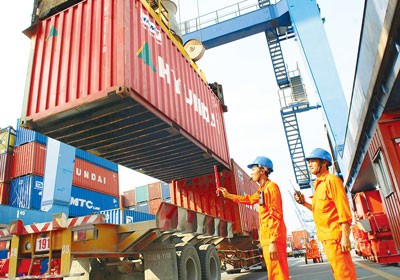 Cargo being loaded at Cat Lai Port in HCMC (Photo: SGGP)
Phu Huu Seaport in Ho Chi Minh City was built three years ago with the latest quay system. However, the port began to receive vessels only in 2012, with a mere 280,000 tons of cargo. The delay was due to lack of an access road to the port.
Nguyen Hong Anh, director general of Saigon Transportation Mechanical Corporation--an investor of the port, said that they must use barges to transport goods.
Saigon Transportation Mechanical Corporation (SPCT), the largest container port in HCMC, now receives an average of only 10 vessels a week. These vessels are of much lower capacity than the port was actually built for.
This is because Soai Rap River, the main entry route for vessels to move into SPCT, has not been dredged to allow larger vessels to enter the port.
HCMC has begun a project to dredge the river but this is expected to take another year to complete.
In 2009-2011, the Cai Mep-Thi Vai International Port Complex opened 4-5 ports to allow vessels of upto 14,000 TEU to enter.
However these ports have been poorly patronized. At present,   capacity of ports at the Cai Mep-Thi Vai Complex is 6.06 million TEU a year. In 2012, they received only 964,000 TEU, accounting for only 16 percent of their capacity.
Meantime, cargo has been moving rapidly in and out of ports in inner Ho Chi Minh City, where authorities are striving to solve traffic jams and overloading from huge stockpiling of goods waiting to move.