The Vietnamese government is striving to "bring the country out of poverty and slow development" by 2009, one year sooner than previously targeted, besides setting a 9% or higher economic growth rate for 2008 and prioritizing infrastructure.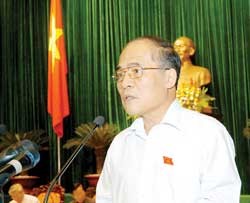 Deputy PM Nguyen Sinh Hung gives speech at the session.
First deputy Prime Minister Nguyen Sinh Hung said so yesterday during the 12th legislature's second session. He added that Viet Nam is currently a poor country with annual GDP per capita of just US$1,000 and an aggregate income of only $20 billion.
According to him, the Vietnamese economic growth rate can be raised up to 10 percent but that high rate could disrupt sustainability, especially in rural areas.
As for 2007, the government is targeting an 8.5 percent.
In addition, the government is trying to curb the rising CIP to under 8 percent. Although import tariffs on 18 essential commodities have been slashed in a recent effort to cut prices, the CPI has defiantly climbed over 8 percent.
He mentioned other difficulties including trade deficits.
The nation has to import 100 percent of petrol, 60 percent of steel billets, two thirds of fertilizers, and 80 percent of medicine ingredients to meet domestic demands.
Poor infrastructure is another challenge, serving to frustrate potential foreign investors, the vice PM noted.
But he also told legislators that old railways are being upgraded, especially the Ha Noi- Ho Chi Minh City route while new ones built. Besides, many highway projects are planned for next year including an expressway connecting Ha Noi and Hai Phong cities in the north and similar routes in outer Ho Chi Minh City in the south.
Mr. Hung emphasized "in 2008, we will focus almost the entire state budget on economic, traffic, waterway and social infrastructure".
The government is now striving for food stability between 2010 to 2015, which he hoped, would positively regulate prices to benefit farmers. Viet Nam is still a heavily agricultural country but has targeted to become a basically industrialized nation by 2020.
Other targets Mr. Hung mentioned include: finishing the highly-anticipated $2.5 billion oil refinery in central Viet Nam - the first ever in the country - by 2009 and two more refineries by 2015 towards a combined 30 million tons in annual capacity by 2020.
By then, we would be able to enjoy self-sufficiency in petrol, he commented. 
As for the steel industry, the country is now able to produce 3 million steel billets a year but is aiming at 8 million in 2010 and 15-20 million by 2015.
Where to scour for funds?
On the same day, legislators discussed methods to raise state budgets for 2008.
Tran Du Lich of Ho Chi Minh City said urban land is like "a chicken laying golden eggs" and suggested imposing more land taxes.
The vice PM Hung had earlier promised to levy progressive taxes on housing speculation to help deflate an impending bubble in the real estate market when recently, thousands in HCMC scrambled to buy apartments whose prices have shot up many folds.
The second source for income is crude oil export. In 2001-2005 Viet Nam has exported 90 million tons, earning $23.2 billion.
According to Dang Nhu Loi, since the government has set the 2008 budget based on a projected crude oil price of only $64 per barrel while its rates have climbed to over $90, Viet Nam could have around VND8 trillion in excess next year to invest in other areas if it is to set the rate at $70, which he said is appropriate.
In case the price cannot be that high, Loi, a legislator from Ca Mau province, proposed issuing government bonds to mobilize funds.