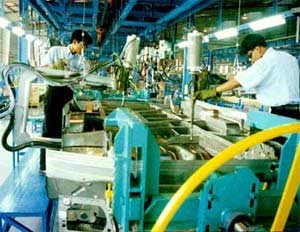 Automobile industry is waiting for a decline in prices after Viet Nam enters the WTO. (Photo:TK)
Sales reported by the 16-member Viet Nam Automobile Manufacturers' Association (VAMA) were unsatisfactory in October.
According to the VAMA's report, the 16 leading automakers in Viet Nam sold 4,044 vehicles in October, up 5% from the previous month and 10% for the same month last year, but the VAMA claims that the figures are somewhat misleading, as automakers have been hurt from a slowdown in demand for sedans.
VAMA, which compiles the industry's monthly data, attributed the rise to improved sales in commercial vehicles, which saw a 9% jump over the previous month and a 62% rise compared to the same period a year earlier.
Last month, VAMA members sold just 854 consumer vehicles, down by 13% compared to October 2005, while the sale of commercial vehicles has increased to 1,736 units, accounting for 44% of the total increase over last year.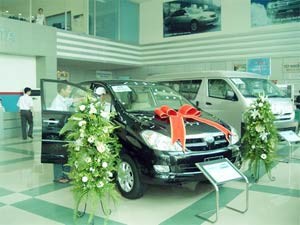 Toyota's cars in a showroom in Ho Chi Minh City. (Photo:TK)
Experts said the autos sales should have been much higher. However, current sales and promotions were only able to generate modest figures, except for Toyota, who again ranked high in overall monthly sales, backed primarily by demand for its multi-purpose vehicle Innova.
Other auto makers that saw declines in sales included Ford, down from 62 to 26 consumer vehicles last month, and Mekong Auto, down from 20 to 17 Musso-model cars.
In addition, the domestic market experienced an 11% year-on-year decline in the sale of multi-purpose vehicles. Thus far there have been 1,394 multi-purpose vehicles sold, a decrease of 2% from the previous month.
Many potential customers have delayed their plans to purchase a sedan in a hope that prices will fall after Viet Nam's entrance into the World Trade Organization (WTO) this November takes effect.