The first oil flow at the Ca Ngu Vang (Golden Tuna) oil field, in block 9-2 in the Cuu Long (Mekong) Basin, some 140 km offshore of Ba Ria-Vung Tau Province, has been pumped by Hoan Vu Joint Venture Company.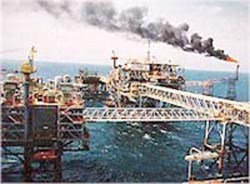 Golden Tuna has an expected output of 10,000-20,000 barrels of oil per day. 

The oil exploration, which was announced yesterday in HCM City, was carried out by the joint venture between the PetroVietnam Exploration Production Corporation, which holds a 50 percent stake, and UK-based Soco Viet Nam Ltd. and Thailand's PTTEP Hoanvu Co. Ltd. both with 25 percent stakes.

The Golden Tuna oil field, discovered in October 2002, has an expected output of 10,000-20,000 barrels of oil and 25-50 million cubic meters of gas per day. Oil and gas exploited from Golden Tuna are transported through a 25km sub-sea pipeline to the processing facilities at Bach Ho oil field.

Hoan Vu Joint Venture Company has so far  drilled four wells in Golden Tuna, and is currently evaluating and determining drilling locations for additional wells. The oil and gas exploitation in Golden Tuna is expected to last 20 years.

The development of the Golden Tuna oil field was a milestone in the growth of Viet Nam's petroleum industry. This is the first project to make use of Bach Ho's available facilities in order to cut down investment costs, bringing more economic efficiency in the exploitation of Viet Nam's offshore oil fields.