Vietnam's household plastic industry has seen a deluge of high class and middle products by foreign rivals who have predominated with many advantages including modern technologies and diversified designs.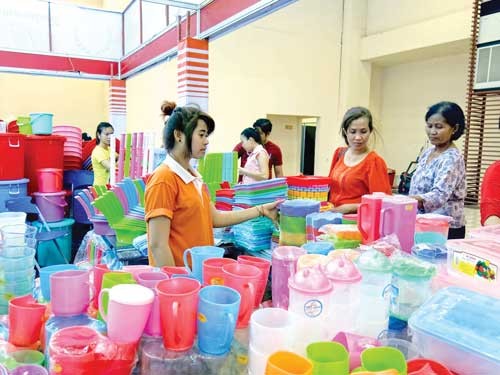 Vietnamese household plastic products at a fair in Cambodia (Photo: SGGP)
Having arrived in Vietnam since 2007-2008, South Korean Lock and Lock has quickly controlled the market with high ranking products. Its most popular item is food containers, a small segment which local businesses have paid little attention to.
Grasping consumers' demand of safety , the company has made high quality products and attained much success.
So far, the company has had four large scale plants including a plastic plant in Dong Nai, which come into operation since 2009 over 70,000 square meters, a complex of three factories in Ba Ria-Vung Tau province producing heat resistant glass, pots and pans and plastic.
Twenty percent of the plants' output provides Vietnamese market and 80 percent are exported.

Vietnam now has about 20-30 medium and large plastic firms. Many of them have made efforts to improve competitiveness and take back the market share. For instance, they have changed from Chinese technologies and machines into Taiwanese (China), Indian and European products.
Some large companies have stepped up studying and developing high class products, for instance, Sina anti-bacteria food containers by Dai Dong Tien Company have come onto the market.

Tan Lap Thanh has also launched Happy Lock food containers. However, they should diversify designs and increase spending on advertisement and marketing to get more success.
In the low and middle segments, local businesses have experienced competitive pressure from Thailand. Thai products have been the favorites of many Vietnamese for high quality and reasonable prices. Besides, Thai firms have waited in front for the global trend of consuming eco-friendly products.
Srithai Superwase PLC is one of Thai plastic giants that have been successful in Vietnam. From the initial number of US$4 million, its investment capital has increased to $20 million after 19 years. Besides three plants in Song Than industrial park, the southern province of Binh Duong, the company is doing land lease procedures to build others in the northern region.
With the developing distribution and retail system in Vietnam, Thai plastic companies have a foundation to gradually overpower Vietnamese goods. This forces local firms to renovate technologies and improve their product quality, said chairman of the Vietnam Plastics Association Ho Duc Lam.
Ms. Huynh Thi My, secretary general of the association, said that small firms have determined their segment in rural areas because of weak potential. Rural market does not require much in design but low prices.
Household plastics is said a potential industry of Vietnam with consumption level having been increasing for years. The level averaged one kilogram a person in 1989 and increased to 22 kilograms in 2010 and 35 kilograms in 2013.
Experts forecast that consumption will hike to 45 kilograms a person by 2020.
Many local businesses want to develop their own products with high quality and diversified designs however they are short of funds. In addition, Vietnamese enterprises have to pay loan interest rate of 6-7 percent or even higher while it is only 1 percent or 0 percent in Thailand.
Eighty percent of materials for the plastic industry depend on import now, making it difficult for local firms in competing with foreign rivals especially when there are exchange rate fluctuations.
Therefore, local plastic enterprises hope that the Government should have preferential policies to provide them with low interest loans to produce more competitive products and develop support industry for the plastic industry to reduce the material dependence on import.