Ornamental fish contributes only US$12 million out of US$6.5 billion seafood export turnover a year in Vietnam although the country has advantageous natural conditions to develop this industry.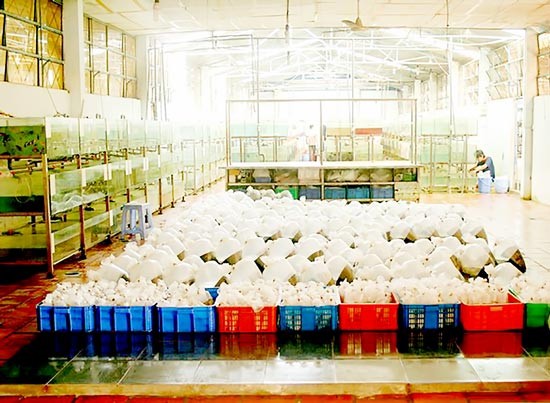 Packaging division at Saigon Aquarium Company in Cu Chi, HCMC (Photo: SGGP)
According to the Food and Agriculture Organization of the United Nations, ornamental fish's export import value posts an annual growth rate of 14 percent and trade value of US$15 billion in the world. Top exporters include Singapore, Japan and Hong Kong (China).
Vietnam has advantageous natural conditions for ornamental fish breeding such as tropical climate, plentiful natural aquatic sources and diversified rivers and canals. Almost all ornamental fish species in the world can live in Vietnam, especially the Mekong Delta region, said experts.
Vietnam has about 505 ornamental fish production establishments providing 104 million breeding fish this year, 96 percent of these come from HCMC.
Vietnam has exported 60 ornamental fish species to 47 nations, 71 percent to the EU, 11.2 percent to the US and America and 17.5 percent to Asia mostly Japan, Taiwan (China), Australia and Singapore.
However, the ornamental fish industry has still been underdeveloped because of spontaneous, scattered and unconnected farming.
In addition, there are many problems from breeding fish, said Mr. Le Huu Thien, director general of Thien Duc Ornamental Creature Corporation in Cu Chi district, HCMC.
Some species have been bred in other nations for decades but Vietnamese companies have just started importing their breeding fish to farm domestically.
Therefore, many types of breeding ornamental fish have not been updated in the import list and imposed high tariff rates like commercial fish.
Ornamental tiny shrimp has been imported for breeding in Indonesia, Thailand and Singapore but Vietnam has still banned it.
Businesses have not caught up with technical barriers by the EU and U.S., taking them a couple of years to meet requirements while their old customers move to find suppliers from other countries, he added.
Support industry has virtually yet to take shape to supply the ornamental fish field with auxiliary products such as fish tanks and aquatic plants.
Diseases have been the most concern as Vietnam has no center specializing in solving epidemic and veterinary problems for ornamental fish.
Experts said that there should have periodical ornamental fish fairs and expos to exploit potential local market with 90 million residents. These events will also provide foreign importers a chance to learn about supply sources in Vietnam.