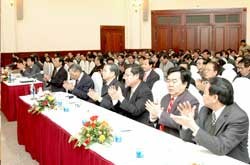 Participants at the counselors' meeting
Trade counselors overseas play a very important role in realizing ambitious economic targets by acting as bridges between domestic enterprises and their foreign partners, said Deputy Prime Minister Nguyen Sinh Hung, at the trade counselor's annual conference in Ha Noi yesterday.
He added that, in order to act as facilitators in the export business, trade counselors must be "reliable friends, advisors and sources of information" for Vietnamese enterprises, their foreign partners, and Vietnamese enterprises in foreign countries
Speaking at the meeting, Trade Minister Truong Dinh Tuyen highly praised the contributions that counselors have made in helping Viet Nam, which expects US$48 billion from exports in 2007, a year-on-year increase of 22%.
Mr. Nguyen Duy Khien, Trade Counsellor to the US, said the US represents the largest market for Vietnamese export items in the world, especially in the context of Viet Nam's membership in the World Trade Organization (WTO) and its normal trade relation status with the US.
He added, however, that increasing the amount of Vietnamese exports to the US depends to a great extent on the competitiveness of Vietnamese products.
Echoing Mr. Khien's sentiments, Mr. Dang Ngoc Quang, Commercial Attaché to the United Arab Emirates, said many local, small and medium-sized enterprises should focus on the quality and technical requirements of their products if they want to exploit potential markets in the UAE.
Mr. Ho Quang Trung, Deputy Director of the Trade Ministry's Export and Import Department, said Viet Nam's entrance into the WTO presents both opportunities and challenges to the national economy. He added that Vietnamese trade counselors overseas should grasp opportunities in their markets and "transform them into economic growth".
He also added that businesses must observe international regulations regarding production processes, technical requirements, sanitation and hygiene if goals are to be met.
Viet Nam currently has roughly 140 counselors working at 55 trade offices in Europe, Asia-Pacific, Africa and Latin America. The Ministry of Trade is considering reopening the trade office in Iraq and will establish trade offices in Lithuania, Venezuela, Panama, Angola, Israel, Tanzania, Senegal and Saudi Arabia in the future.