Despite a bumper harvest in the Mekong Delta, paddy prices have soared in the region to prohibitive levels, making it ever so difficult for the poor farmers.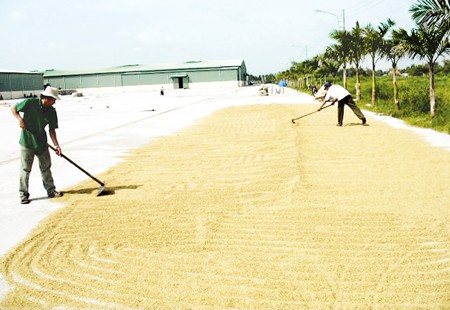 Farmers drying unhusked rice ( Photo: SGGP)
The situation has worsened with rice exporters stopping purchase of rice. The rice processing mills in the Mekong delta provinces of Can Tho and Tien Giang complained that they sit idle these days because exporters have stopped buying rice as this year's target for rice export is around 7 million tons and Vietnam has already exported over 5.3 million tons of rice, earning more than US$2.5 billion since the beginning of the current year.
The balance export amount can easily be met, according to the Vietnam Food Association (VFA).
Moreover, businesses have stockpiled enough rice for domestic use and for export.
On the other hand, the Department of Cultivation said that farmers harvested around 5.47 tons a hectare from this year's high-yield summer-fall crop, nearly one ton higher than last year.
In addition, farmers will reap more than one million tons of unhusked rice or 500,000 tons of husked rice in September, besides already having sowed over 480,000 hectares.
Logically, rice prices in the country should go down, but they continue to soar. According to VFA, the price of processed five-percent broken rice without bag is US$519 per ton, while 15 percent broken rice is US$500 per ton and 25 percent broken rice is at US$474 per ton.
Even the average quality rice is being traded at VND11,000 per kilogram (or US$524 per ton) in wholesale markets, which is much higher than the price of processed five-percent broken rice for export.
Matters have worsened as farmers in the region have sold all their rice, as at that time traders offered high prices. Farmer Pham Van Nua in the Mekong delta province of Dong Thap said he has just sold his as yet tender summer-fall rice at VND6,000 per kilogram ( or US$286 per ton) to avoid the coming flood onslaught, adding that many farmers in Dong Thap were in a similar situation like him.
Also, their counterparts in the Mekong delta province of Hau Giang sold dried unhusked rice at VND7,000 per kilogram (or US$333 per ton).
This high price will affect the livelihood of millions of poor Vietnamese people in the region and even farmers who have sold all their unhusked rice will now have to buy husked rice for their daily meals.
Government needs to focus on stabilizing rice prices, as it affects the common man and is as important as meeting export targets.