Vietnam's paper producers announced they would raise their product price this year on strong US dollars, increasing input costs and low import quotas.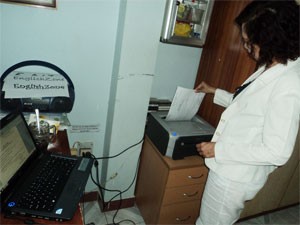 A woman is waiting to get her document coming out from a printer at HCMC-based firm. Paper makers are expected to suffer losses on the increasing input costs (Photo:Minh Tri)
Last year was a tough time for the paper industry as local producers had to cope with many challenges, including the surging input costs, high foreign exchange rate, rising lending rate and increasing transport costs.
Many plants, which had to reduce operation due to the economic recession in 2008 and 2009, looked confused when they restored their full operation capability, with the global pulp supply getting scarce.
Expert said Vietnam's paper market remained very potential as the domestic consumption averaged below 1 kilogram per head in a year, compared to 30 kilograms per head in a year of the Euro and North America.
However, local makers have struggled to expand since they hardly found places to build plants.
Many provinces hesitated to give licenses to open paper plants as they were afraid of environment pollutions, which were caused by small- and medium-size paper makers with aging water treatment systems earlier.
A modern plant requires only 7-15 cubic meters of water to produce one ton of paper, while most local plants used around 30-100 cubic meters of water to make the same amount.
"The paper industry needs long-term investments; thus, just a few of investors are willing to attend. Most paper plants are foreign-owned," said Cao Tien Vi, chairman of the paper maker Sai Gon.
"Last year, the operation of some small local makers, who could not afford water treatment systems, polluted the environment seriously," Vi added.
Experts said the pulp supply in 2010 was getting insufficient as major suppliers from abroad focused solely on the big markets including the US, Euro and China, where placed orders with huge volumes.
The domestic paper cost, meanwhile, surged on the fact that many small producers halted their operation due to a strong dollar, rising lending rates and surging transport costs.
Both pulp and recycled paper increased sharply, with the former reaching around US$800-850 per ton and the later amounting to $400-450 per ton. As a result, they pushed up printing paper's price to $700 per ton.
Statistics show the printing paper price in the first three months of the year rose 4 percent on the increase in gasoline and electricity prices and was expected to move up further on the rising pulp and coal prices.
Many paper producers were forced to raise their retail price higher than the price of imported paper, leaving them struggling to compete with foreign rivals.
Price of printing and writing papers imported from Malaysia is around VND22 million ($1,100) per ton, while local makers offer at the price of over VND23 million per ton, a year-on-year increase of VND2.2 million.
Ponthep Tuntavadcharom, marketing manager of Binh Duong province-based paper maker Vina Kraft, said many foreign paper suppliers with lower prices and abundant supply would dominate the local market.
Domestic producers, who are struggling to reduce their price due to increasing input costs, will incur heavy losses or even have to halt their operation again this year