Perfecting its socialist-oriented market economy institution is crucial for the development of Vietnam , Party General Secretary Nguyen Phu Trong said in a Politburo meeting in Hanoi on September 12.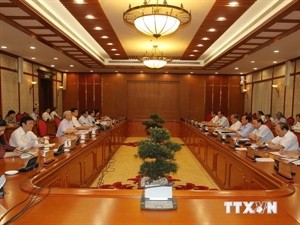 The Politburo meeting (Photo: VNA)
The meeting reviewed the five-year implementation of a resolution on refining the socialist-oriented market economy.
The Party leader stressed the significance of the resolution, particularly in the run-up to the 12th National Party Congress and the review of the 30-year renewal process.
He highlighted the need to combine economic growth with social progress, equality and environmental protection, and strengthen the inclusion of socio-political organisations and individuals in the socio-economic development progress.
Vietnam should accelerate the full realisation of the socialist-oriented market economy institution, since this process has so far been slow and failed to keep up with the processes of renewal and international integration, he added.
The General Secretary also said it is necessary for the country to improve Party leadership, increase the efficiency of State management, establish institutions on ownership and distribution, and implement economic principles.
According to head of the Party Central Committee's Economic Commission Vuong Dinh Hue, in the past five years, the role, efficiency and competitiveness of Vietnamese enterprises have been enhanced, while the country's business and investment environment improved, production increased and employment opportunities grown.
The country has strengthened its international integration, increased economic partnerships, actively contributed to the establishment of the ASEAN community and improved the domestic market in accordance with its commitments to the World Trade Organisation, Hue added.