Petroleum companies will be allowed to set the price of gas at the pumps according to Decree 55/CP, said Minister of Trade Truong Dinh Tuyen.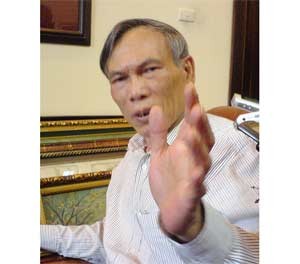 Vietnamese Trade Minister Truong Dinh Tuyen
Mr. Tuyen said that a meeting will be held between the Ministry of Finance, the Ministry of Trade and major petroleum companies to negotiate what rights the petroleum companies will be entitled to. Attendees will also discuss ways to curb speculation and prevent petroleum companies from raising petrol prices in unacceptable ways.
An online press conference will also be hosted by the Minister of Trade to publicize the agreements. Interested parties can go to www.mot.gov.vn for more details.
As to restraints to be put in place to keep the price of gas under control, Mr. Tuyen said that the Ministry of Finance should develop a framework under which prices are set in accordance with tax rates that are adjusted to rising and falling world oil prices. That will help avoid disputes between the Minister of Finance, who is concerned about revenue losses, and the Minister of Trade, whose main concern is negative impacts on consumer indexes.
Mr. Tuyen also stressed, however, that the government will still maintain a role in the management of the petroleum market, for example, by requesting that petroleum companies submit their pump prices for approval. In addition, controls will be put in place to prevent collusion between major companies.
When asked to comment on the impact of normal fluctuations of retail gas prices on the consumer, Mr. Tuyen responded that although petroleum companies will be allowed to adjust petrol prices, that does not mean that the price at the pump will rise and fall with the same rapidity as world oil prices.
Furthermore, to provide a buffer for the consumer from fluctuating prices, The Ministry of Trade will propose that petroleum companies use their profits to make up losses when world oil prices are down and to balance their profit and loss on a monthly instead of daily basis. He also emphasized that control of pricing will not be handed over until the decree comes into effect.
Mr. Tuyen stated that since Viet Nam is now a member of the World Trade Organization (WTO), they will be required to adjust gas prices according to fluctuations in the world market because the State will no longer be subsidizing the energy sector.
More rights are also being given to petroleum companies since they need a great deal of capital for their operations, according to Mr. Tuyen. At present, under WTO commitments, Viet Nam is not required to open its markets to foreign petroleum companies, however, in 5 or 10 years that will likely change and they will then need to have a number of petroleum companies with the strength to compete with foreign competitors.