Despite the global price on a rise, physical gold price in Vietnam still treads water mainly because of the government's effort to tighten control over gold and US dollar trading on the so-called black market.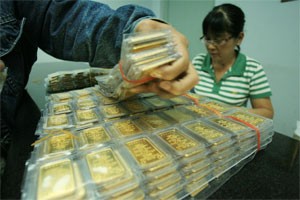 Mini gold bars are put into plastic packs at a jewelry shop. Domestic physical gold remains unchanged in spite of the rising global price (Photo:Minh Tri)
The government has unveiled a package of monetary and fiscal tightening measures, and among them is a plan to end the widespread trade in gold bars on the unofficial market.
The central bank said early this month that the issue of licenses for gold bullion trading and production has been stopped.
Prime Minister Nguyen Tan Dung on March 15 confirmed the government's intention to tighten controls over foreign currency transactions.
A crackdown on illegal dollar hoarding and trading was launched late last month, bringing the black market to a standstill.
Experts said the decrease in foreign exchange rate of the dong and the US dollar over last one month was also among main reasons that put the domestic price of physical gold on downwards trend.
The dollar-dong exchange rate listed at jewelry shops has dropped to VND21,200 for one dollar from VND22,400 since last month, while the rate on the interbank market declined to VND21,000 per dollar from VND21,600.
The capital funds flowing into the gold market, meanwhile, are being hampered by the increasing deposit rate on the dong.
"The domestic physical gold will likely to retreat further, if the global price continues to lose grounds in short-terms. But I expect the domestic price will hardly drop below VND36 million (US$1,800) per tael," said financial expert Phan Thanh Hai of the Gia Dinh Joint Stock Bank.
Experts said there were profit-taking opportunities for gold investors as domestic gold price remained higher than the international one. However, they had to cautiously study on the precious metal's price move to catch the right time to make investments, experts warned.
In the international market, gold last week soared to a fresh record, taking silver along with it to 31-year highs as investors bought the precious metals as a safe haven amid growing concerns over the Middle East and Portugal, according to AFP.
Gold hit a record $1,447.82 per ounce in afternoon trade on the London Bullion Market and silver jumped to $38.16 an ounce -- its highest level since February 1980.
"Gold and silver are justifying their reputation as safe havens, which is hardly surprising in the current climate," said Commerzbank analyst Carsten Fritsch in a research note.
"In addition to the war in Libya, the unrest in the Arab region and the disaster in Japan, the debt crisis in eurozone periphery countries has also returned with a vengeance to the centre of market interest."