A seminar held on September 16 in Kien Giang Province in the Mekong Delta discussed the possibility of converting Phu Quoc Island into an economic zone under the management of the central government.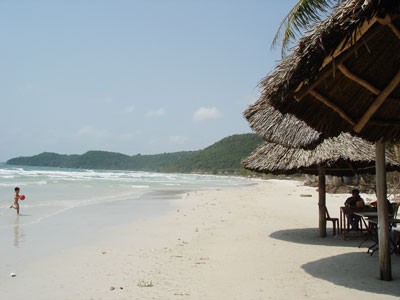 The beach in Phu Quoc Island. (Photo: Cat Tuong)
In the last nine years, the island has seen an annual economic growth rate of about 24.5 percent, a 5.2 percent increase from 2004. Per capita income on the island is currently estimated at around VND70 million (US$ 3,323).
Phu Quoc Island has so far attracted 206 projects across an area of 9,360 hectares, of which 13 projects have already been put into operation.
The US$190 million newly built airport on the island, better traffic infrastructure costing about VND10 trillion ($ 474 million) and a submarine cable network connecting Ha Tien Province to Phu Quoc, are but some of the developments that have changed the face of the island.
Participants at the seminar affirmed the project to turn Phu Quoc Island into a dynamic and self-reliant economy, a regional and global center for tourism, technology, finance, trade, and entertainment, will be beneficial for the general growth of the Mekong Delta and the country.
Speaking at the seminar, Deputy Prime Minister Vu Van Ninh said that to be successful in implementing the plan, policies need to be applied that will raise standards of competitiveness that will be higher than in other localities.
Ninh emphasized that local authorities have to attract contributions from all sectors of society and plan projects that will be feasible. He also asked the local administration to weed out irrelevant projects.