In Viet Nam these days there are around 100,000 timber and rubber plantations and fish farms totaling more than half a million hectares in size. Of this number, 30,000 are in the southeast part of Ho Chi Minh City, whose residents own more than a tenth of the largish (30-40 hectares) farms in nearby provinces.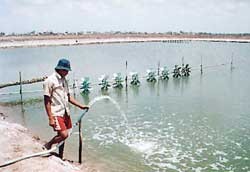 A shrimp farm
At a meeting of successful farm owners in the country's south yesterday, the chairman of the Viet Nam Farmers Association, Vu Ngoc Ky, said "farm economy" (as non-household farming is called in Viet Nam) made better use of land, concentrated production to yield a large volume of commodities, created jobs, fostered the change to new methods of agricultural production, and helped develop agriculture, forestry and fish farming.
 
"In recent years many farms have modernized by applying advances in science and technology and thereby enhanced production" he said.
 
Le Duy Minh, vice chairman of the Ho Chi Minh City Horticulture and Farming Association, said that farming had four roles to play in Viet Nam's joining the World Trade Organization: pioneering technological and scientific applications, using land and labor efficiently, linking production and consumption, and appropriately getting crops and livestock to market.
 
Once Viet Nam joins the WTO, he said, the first task of the country's farmers should be to form an organization for their mutual benefit and protection.