Prime Minister Nguyen Tan Dung attended a ceremony yesterday to inaugurate the Vung Ang 1 Thermal Power Plant in Ky Anh District, the central province of Ha Tinh.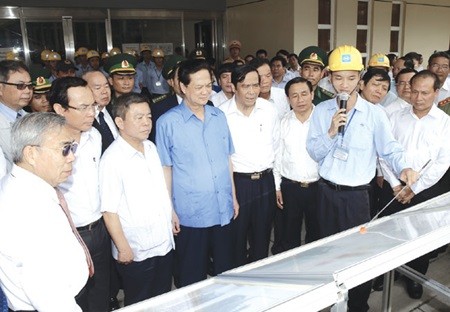 Prime Minister Nguyen Tan Dung (centre) listens to the introduction about a power plant in the Vung Ang Economic Zone in the central province of Ha Tinh. The Vung Ang 1 Thermal Power Plant in the zone was inaugurated yesterday.
Construction on the US$1.25-billion plant started in July 2009. The first turbine of the 1,200MW plant became operational in August 2014, while the second one started generating electricity in April of this year, contributing a total of 3 billion kWh to the national grid so far.
When running at full capacity, the plant is expected to provide about 7.2 billion kWh to the national grid each year, with annual proceeds of VND7-8 trillion (US$308-352 million). It is expected to help tackle an electricity deficiency and ensure energy security for the national industrialisation and modernisation.
The ability of the two turbines to generate electricity at designed capacity marks a turning point and seals the coal-fueled plant's record as having the biggest-ever capacity, PM Dung said at the ceremony.
The Government leader praised efforts made by the Viet Nam Lilama Machinery Erection Corporation and Vietnam National Oil and Gas Group, stating that it is the first time the main contractors of a large-scale project are Vietnamese-owned enterprises.
Then he participated in a ceremony to inaugurate the first coal-fueled turbine of a power plant of the Formosa Group located in the Vung Ang Economic Zone. He said he hopes that the Taiwanese group will continue efforts to ensure the progress of the project and contribute more to the socio-economic development in Ha Tinh and the northern central region.
The PM also visited the construction site of the Son Duong deep-water port at the economic zone.
While meeting provincial leaders earlier, PM Dung asked them to continue ensuring defence security and social safety and order, attracting more investment, improving the investment environment and reforming administrative procedures, in addition to Party building and economic development.
The province was urged to exert additional efforts to achieve 2015 targets, while outlining socio-economic plans for the next five years.
The Government always creates favourable conditions for Ha Tinh to grow further in order to speed up the development of the northern central region and the entire country, he added.
According to Secretary of the provincial Party Committee Vo Kim Cu, Ha Tinh recorded an average annual economic growth rate of 18.7 percent over the past five years. This year, the figure is expected to reach over 28 percent.
The province ranks sixth nationwide in terms of foreign investment attraction, and is one of the five localities leading the country in new-style rural area building.