At the government's monthly meeting in Ha Noi yesterday, Prime Minister Nguyen Tan Dung said efforts should be continued to sustain macro-economic stability.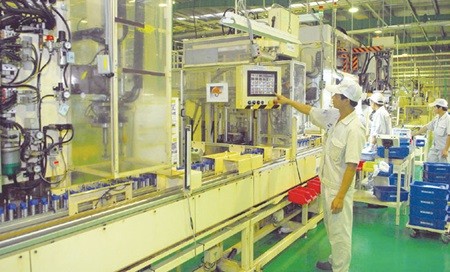 Workers produce automobile and motorbike parts for the domestic market and export at Nissin Manufacturing Viet Nam Co Ltd in the Luong Son Industrial Zone in the northern province of Hoa Binh. Minister of Planning and Investment Bui Quang Vinh said Viet Nam's macro-economic situation was stable, and inflation remained under control (Photo: VNA/VNS)
He also asked for the clearance of any barriers impeding production, trade, agriculture, tourism and services to propel growth, especially in the manufacturing and engineering sectors.
The economy grew 6.03 per cent from January to March, the highest growth rate seen during the first quarter since 2011, with agricultural growth remaining stable, retail and services in high demand and exports gaining steam.
Cabinet members also shared the optimistic view about the recovery of the global economy having a positive effect on the domestic economy.
The PM praised ministries, agencies and localities for their timely actions from the beginning of this year, which he said had resulted in remarkable progresses.
He also requested them to speed up the disbursement of development-oriented capital, including the State budget, government bonds and official development assistance, while seeking out new export markets and tapping advantages in trade agreements, international commitments and the ASEAN Community.
Ministries and agencies were also tasked to facilitate the equitisation of State-owned enterprises (SOEs).
Apart from the 289 SOEs awaiting equitisation this year, it was imperative to continue selling stakes in under-performing SOEs and withdrawing State capital from non-core business channels, the PM said.
He urged the Ministry of Agriculture and Rural Development to focus intensely on preventing and counteracting the impact of drought, offering all possible assistance to the affected localities.
Social welfare services, administrative reform and business environment improvements should also continue, PM Dung said.
The country's leader also agreed to a proposal for amending Article 60 of the 2014 Law on Social Insurance, under which the government will ask the National Assembly to consider allowing workers, who are not eligible for pension in terms of social insurance contribution time, to become entitled to a lump-sum social insurance payment.