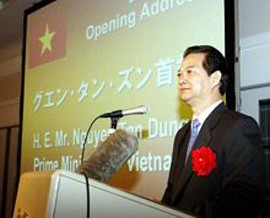 PM Nguyen Tan Dung speaking at the conference.
The Vietnamese Government creates favorable conditions for Osaka businesses to invest effectively in the country, PM Dung pledged at a seminar on investment held in Osaka on Saturday.
Addressing the investment conference jointly held by the Japan External Trade Organization and the Vietnamese Ministry of Planning and Investment, PM Dung briefed participants on Viet Nam's socio-economic achievements after 20 years of renewal and its development plan in 2006-2010 period.
He stressed that Viet Nam is building its market economy institution and the legal system and establishing a healthy and transparent business and investment environment with the aim of creating an equal playing field for all investors.
Mr. Dung said the Vietnamese Government admires Japanese businesses' financial power, technology, sales network, management skills and workmanship and is willing to create favorable conditions for Japanese businesses, particularly businesses from Osaka prefecture, to invest and operate successfully in Viet Nam.
Speaking at a banquet held in honor of Mr. Dung and his entourage, Osaka Governor Fusae Ohta said the city will establish an Investment Promotion Centre in Viet Nam in 2007 and organize conferences on Asian urban environment in order to create new investment fields for Osaka investors in Viet Nam.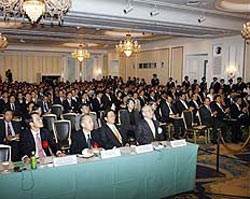 Participants at the seminar on investment held in Osaka on Saturday.
In return, PM Dung stressed that Osaka has played an important role in economic, commercial and cultural exchanges with Viet Nam and expressed his hope that the friendship and cooperation between Osaka and cities and provinces of Viet Nam would be further developed.
Vietcombank seeks cooperation in Japan
The Bank for Foreign Trade of Vietnam (Vietcombank) is seeking cooperation with Japanese financial groups and banks with many activities held when its officials accompanying Prime Minister Nguyen Tan Dung to Japan.

Vietcombank coordinated with Nomura Group to organize a seminar "Prospect of financial market and investment opportunities in Viet Nam", which attracted representatives from more than 100 financial institutions.

Speaking at the seminar, Nomura Deputy Director General Toda cited his experiences as well as opportunities to invest in Viet Nam.
Vietcombank Director Vu Viet Ngoan proposed many recommendations on promoting the investment in Viet Nam's financial market, among which was an initiative of forming a fund for overseas investment into Viet Nam.
Also attended the seminar was Vietnamese Deputy Finance Minister Tran Xuan Ha, who reaffirmed the Vietnamese Government's commitments to stabilize the macro-economy and hasten administrative reform to create a transparent environment for foreign financial investors.