Prime Minister Nguyen Tan Dung has instructed agencies to implement the government's program to stockpile one million tons of winter spring rice in order to prevent further price drops in the Mekong Delta.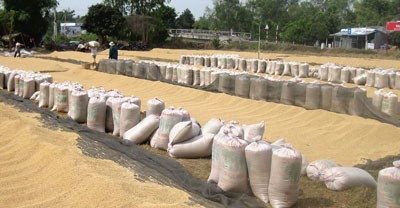 Rice prices have recently reduced in the Mekong Delta (Photo: SGGP)
He ordered the Ministry of Agriculture and Rural Development to work with the Vietnam Food Association and provinces in the Mekong Delta to supervise and speed up stockpiling according to regulations. They will report to the government in case of any difficulty receiving assistance.
The Vietnam Food Association will choose businesses with good financial ability and warehouse system to stock the rice. The State Bank is ordered to instruct commercial banks to loan rice stockpiling companies.
Commercial banks will provide loans at a preferential interest rate of 7 percent in six months beginning March 20. The State Bank will sponsor businesses with 100 percent of interest rate in the first four months.
The Government's rice stockpiling program began March 15 and will last until April 30.
Rice price falls
Rice prices have slightly increased right after the Prime Minister's decision, according to Sai Gon Giai Phong Newspaper. It recently reduced again.
Traders paid only VND 4,100-4,200 a kilogram of fresh rice, a decrease of VND200 over last week.
Businesses have reduced purchase due to export demand fall. These businesses implemented the program too slowly.
Some companies refused to purchase contracts to consume rice in large scale paddy fields.
Docimexco Company contracted with Tan Hong District Cooperative, Dong Thap Province for consumption of 746 hectares of winter spring rice. However the company has refused to do so when 210 households in the cooperative reap their rice.
A HCMC-based company has also not kept their promise to purchase 100 hectares of high quality rice in Binh Minh Cooperative, Thanh Binh District.
The company wanted farmers to delay the harvest time until April but rice fields have ripened forcing farmers to sell at low prices.