In a bid to preempt rumors, Prime Minister Nguyen Tan Dung has instructed ministries and other agencies to make public all governmental instructions on prices and demand and supply of essential commodities.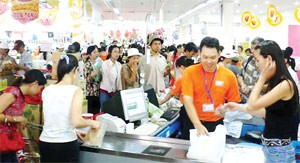 Recently, rumors have caused market prices fluctuate, causing concern among the population.
The Government Office said in a recent dispatch that Dung also instructed provincial and city administrations to work together with the central government to tackle abnormal changes in price or supply and demand of key commodities.

He also told them to look into rumors and throw the book at those spreading them.

He has entrusted the Ministry of Information and Communication with propagating information so that people remain informed about the true market situation.

The ministry is tasked with ensuring the media promptly carries official information so that there is no panic when there are sudden fluctuations or rumors in the market.