Prime Minister Nguyen Tan Dung on Wednesday told Northern and Southern food corporations, the two key agencies in processing and trading of food in Vietnam, to buy entire rice harvests at a price that will allow farmers to profit by at least 30 percent.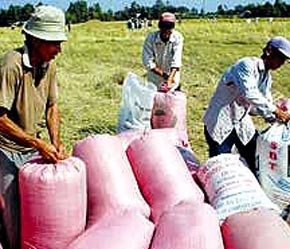 Food corporations have been told to buy entire rice at a price that will allow farmers to profit by at least 30 percent
Speaking at a conference on trade and production in Ha Noi, with a focus on rice exports, PM Dung said it is essential to draw on experience from the price-hike fever in April 2008.
 
He said the two corporations need to invest in upgrading and building a storage system to be able to take the initiative in buying and exporting rice.
 
Related ministries agencies and banks agreed to support and provide the corporations with funds to buy entire rice stocks from farmers and build the storage system.
 
PM Dung required the two corporations to take the initiative in preparing sources and penetrating the international market, with a focus on improving quality and building a trade mark for Vietnamese rice, and creating a stable demand on the world rice market.
 
The corporations will need to become strong in foodstuff trade and become competitive throughout the region and the world, said Mr. Dung.
 
Regarding rice exports, deputy PM Nguyen Sinh Hung said the ministries of Agriculture and Rural Development, and Industry and Trade need to further research the market to guide farmers to produce rice that is demanded by the market, and ensure consumption of whole agricultural output in general and rice in particular.
 
The PM appreciated the corporations for building supermarkets and trade centers in provinces, adding that the market system needs to be constructed in all areas to ensure price stability.
 
According to the general director of the Southern Food Corporation, Truong Thanh Phong, the corporation exported 2.2 million tons of rice last year.
 
This year, Phong said his corporation plans to buy and sell 2.8 million tons of rice and earn more than VND30.6 trillion ($1.75 billion).
 
He admitted that the corporation failed to control rice prices in a timely fashion during price hikes last April, which caused instability in the domestic market.
 
The Northern Foodstuff Corporation reported that it exported 6 million tons of rice last year. It is scheduled to buy 2.85 million tons of rice this year, of which 720,000 tons will be exported.
 
The country signed contracts during the first two months to export 3.6 million tons of rice, a three-fold increase from last year.
 
The two corporations make up 61 percent of the country's rice exports and 30 percent of the domestic rice market.