Prime Minister Nguyen Xuan Phuc yesterday requested provincial authorities to urgently support residents in rebuilding houses and repairing those on the verge of collapse.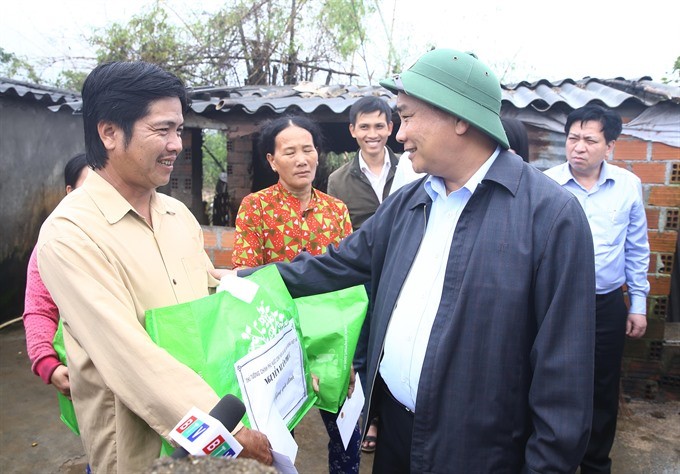 Prime Minister Nguyễn Xuân Phúc visits flood affected residents in Bình Định Province. — VNA/VNS Photo Thống Nhất
In a tour to examine the living conditions of flood affected residents in the central Bình Định Province yesterday, he also encouraged local residents to overcome difficulties and restabilise their lives.
The PM visited residents of the inundated An Xuyen 3 Hamlet in the province's Phu My District, as well as residents of Luat Le Hamlet in Tuy Phuoc District who were suffering from the erosion of the Ha Thanh River dyke.
Five major floods have hit the province since last month, inundating 11 districts, towns and cities in the province, according to the provincial People's Committee.
The floods killed 39 people, injured 10, pulled down 551 houses, submerged 97,000 and incurred a loss of some VNĐ1.9 trillion (US$83.5 million).
On the same day, Vice President Đặng Thị Ngọc Thịnh visited flood affected residents in the central Phú Yên Province.
At a meeting with the provincial People's Committee, she highly appreciated the province's efforts in dealing with and overcoming the natural disasters.
She asked the authorities to take care to avoid post-flood accidents and attend to the living conditions of the flood affected residents, especially when the Lunar New Year is only a month away.
Two major floods occurred in Phú Yên Province since last month, incurring a loss of nearly VNĐ500 billion ($22 million).
Reservoir control
Water leakage sites were discovered at 23 reservoirs in the central province of Bình Định on Tuesday, the result of the heavy downpours and flooding that have afflicted the area since the beginning of the month.
The Centre of Flood and Storm Prevention in the Central and Central Highlands region reported the province is strictly monitoring the situation at these reservoirs.
The province also said erosion in the lower part of Hoài Ân District' Vạn Hội reservoir has been repaired, while three dam outlets were plugged yesterday.
According to the latest reports from the centre, three outlets released the water level down to 38m via a safe spillway, and a duty team was put on 24 hour alert at the dam.
The central province, which was the most damaged locale in the flooding, has a total of 166 reservoirs built in the 1980-90s, of which 46 are in poor repair.
The Ministry of Industry and Trade reported on Tuesday that 70 out of 250 reservoirs at hydro-power plants and irrigation lakes in the region continue to discharge water through spillways. Most of the reservoirs are 80 or 95 per cent full.