Prime Minister Nguyen Tan Dung has urged the diplomatic sector to work harder to expand the market for the country's exports.

Addressing a joint session of the 28th Diplomatic Conference and the 2013 Trade Counsellors Conference on December 17 in Hanoi, PM Dung said this is a key task in international integration and external economics work, which is very important to the country's economic growth and job creation.
He underscored that it is crucial to exploit traditional markets to boost exports of the country's key products including rice, coffee, pepper, seafood, apparel and footwear, while making full use of existing free trade agreements and bilateral economic deals to bring Vietnamese goods to new markets.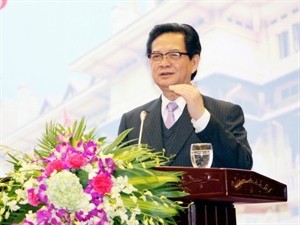 PM Nguyen Tan Dung speaking at the event (Photo: VNA)
In addition, PM Dung also suggested that the sector should focus on calling more foreign direct investment as well as ODA to the country for infrastructure building, poverty reduction and climate change response.
He also noted that the diplomacy sector should pay more attention to people-to-people connecting activities, cultural cooperation, education and training, and science and technology development.
The sector should exert more effort to improve work related to Vietnamese abroad, especially observing their legitimate rights and supporting them in integrating into the host society, he added.
The PM emphasised that international integration and external economic work should closely follow the guidelines of the Party and State on external relations, with the aim of strengthening peace and friendship to benefit the country, region and the world.
He said international integration and external economics work should contribute to creating favourable conditions and seizing all opportunities for national development, maintaining socio-economic stability and protecting national independence and sovereignty.
PM Dung hailed the diplomatic sector for its many achievements over the past three years, saying that they positively contributed to the common success of the country.
According to Deputy Prime Minister and Foreign Minister Pham Binh Minh, in a difficult economic situation felt by the country and the world, many measures have been applied to improve the efficiency of external economic activities.
Apart from key and traditional markets, external economic efforts have helped clear the way to promising markets like Latin America, the Middle East and North Africa , contributing to promoting and attracting investment and creating jobs, Deputy PM Minh said.
Deep and broad international integration has also helped raise the country's position and extend its development space, he said.
The Deputy PM held that the country's economy has basically recovered and is growing. Trade turnover with major partners has increased over the past years, while trade deficit has been reduced and foreign direct investment has increased again since 2012.
ODA commitment by donors has also been maintained at a high figure. Meanwhile, foreign visitors have continued to surge, estimated to hit 7.3 million by the end of 2013. In the first 11 months of this year, Vietnam also sent 78,000 workers abroad, he noted.
In the last two years, 14 more countries recognised Vietnam's market economy regulations. Efforts have also been made to fight protectionism and discrimination in export markets to protect the legitimate rights of Vietnamese businesses, he added.
The joint meeting is the second of its kind to be organised by the Foreign Ministry and the Ministry of Industry and Trade.
The event has a significant meaning as the country is exerting efforts to realise the targets of the 2011-2020 socio-economic plan and strive to implement its strategy of combining macroeconomic stabilisation, economic restructuring and growth model reforms.
During the meeting, participants also listened to reports by the Ministry of Planning and Investment, Agriculture and Rural Development, and Labour, War Invalids and Social Affairs reviewing the socio-economic development for the 2011-2015 period