At the inauguration of the Viet Nam Rubber Industrial Group (VRG) yesterday, the Vietnamese Prime Minister asked relevant authorities in the industry to increase the rate at which rubber saplings are being planted so that the industry can reach a target of 1 million hectares of planted trees by 2015.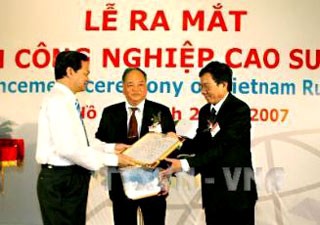 Prime Minister Nguyen Tan Dung (L) hands the certificate of establishment to the Viet Nam Industrial Rubber Group
The VRG will take the lead role in plans to develop 200,000 more hectares with other economic sectors being encouraged to plant the remaining.
 
Rubber trees are currently grown on 220,000 hectares, of which 180,000 hectares produce 320,000 tons of latex, the highest yield in the world.
 
PM Dung said because rubber currently contributes over US$1 billion to national export turnover, it is extremely important to step up development of the industry.
 
"Rubber trees have been good for sustainable development because they are drought-resistant trees and can be grown almost anywhere in Viet Nam," he said.
 
The establishment of the VRG is an important turning point in the development of the rubber sector as it confirms the industry's position in both the country and in the world.
 
The development of the rubber industry has contributed to the alleviation of hunger and poverty for a portion of the country's ethnic minority and has also been a catalyst for economic restructuring in rural areas, Mr. Dung said.
 
So far, the sector has provided employment for some 83,000 workers, of whom some 10,000 come from ethnic minorities. The industry as a whole made VND4,100 billion (US$256 million) in profit last year.
 
"To become a modern, industrialized nation, the country must upgrade rural regions, especially remote areas," he said.
  
PM Dung also urged the industry to get going with plans to sow 100,000 hectares of rubber trees in Laos and another 100,000 in Cambodia and invest in the processing of rubber products there as well.
 
As an agricultural sector, the rubber industry must use competitive market strategies to increase its industrialization.
 
The group, therefore, must gradually implement a development strategy suitable to the current market situation so as to increase the commodity value of the rubber trees, acreage and related occupations.