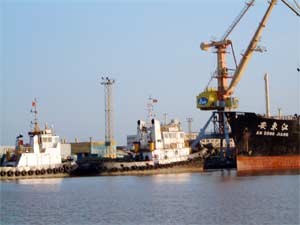 International cargo ship dock at one of the Hai Phong city's ports.
Hai Phong city must develop quickly in order to assume its role as a leading port city in the northern region and transform itself into a modern urban center with a dynamic industrial and service sector, said Prime Minister Nguyen Tan Dung in a working visit to the city yesterday.
After being briefed on the city's socio-economic development in the first quarter of 2007, the PM addressed the meeting and praised their progress in the implementation of the Viet Nam communist Party Political Bureau's resolution to build and develop the city.
PM Dung also instructed the city to hasten the planning of major projects, including the Lach Huyen deep-water port, Hai Phong University, the Viet Nam- Slovak Hospital, and the Ha Noi- Hai Phong highway.
He urged the city to attain more investment from domestic enterprises for the Dinh Vu- Cat Hai bridge project and the construction of the Ha Noi-Hai Phong highway which between them are expected to cost some VND6 trillion.
The Prime Minister also asked the city to continue its fight against crime and firmly maintain social order and security during the 12th National Assembly elections.
Earlier the same day, Mr. Dung visited some of the city's construction sites as well as the Dinh Vu – Cat Hai Economic Park and Cat Bi airport, both of which are slated for expansion in the near future, the latter as a potential auxiliary port of the current Noi Bai International airport in Ha Noi.
According to city leaders, Hai Phong has achieved an economic growth rate of 11.23% in the first four months of 2007. Significant steps were also taken toward opening a Hong Kong-Macao- Hai Phong International air route, successfully producing ships weighing up to 53,000 and implementing administrative reforms under the one-stop shop mechanism.