Prime Minister Nguyen Tan Dung has asked the taxation sector to focus on reducing troublesome procedures in tax payment and impose strict punishments on officers who harass the people and businesses.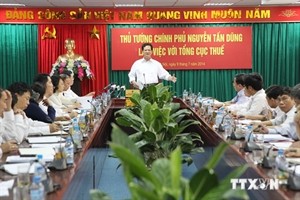 PM Dung speaks at the session (Photo: VNA)
At a working session with key leaders of the General Department of Taxation in Hanoi on July 9, the Government leader acknowledged the sector's efforts to carry out administrative reform and improved staff capacity.
However, he stressed that much remains to be done, particularly in tax management, such as great losses in tax collection and cumbersome administrative procedures.
The amount of time needed for preparing and paying tax in Vietnam is the largest in the region, PM Dung said, adding that many tax officers have intentionally causing trouble to tax payers.
"These are very serious problems that the sector must pay special attention to and take specific and effective measures to solve," he said.
The PM urged the sector to continue revising tax regulations to allow people and businesses to pay their tax in the quickest and most convenient way while eliminating legal loopholes to prevent tax losses.
According to the sector's reports, in the first half of 2014, tax collection fulfilled nearly 54 percent of the estimates and saw a year-on-year increase of 14.5 percent.