Prime Minister Nguyen Tan Dung has ordered all agencies to continue their measures to prevent recession though the stimulus packages have been effective, a Government spokesperson said at the end of a regular two-day Government meeting on August 5.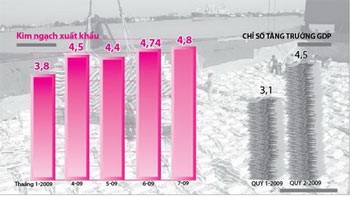 Exports (L) have remained flat since the beginning of this year while GDP has jumped in the second quarter to 4.5 percent from 3.1 percent in the first (Photo: Tuoi Tre)
Speaking to the media, Minister Nguyen Xuan Phuc, head of the Government Office, said industry, agriculture, and services have all posted growth in the last seven months.
 
The currency and stock markets stabilized in July, he said.
 
But to stabilize the economy, reduce the budget deficit to below 7 percent, boost GDP to above 5 percent, and ensure social welfare, the stimulus measures have to be continued, he said.
 
At the meeting, the PM called for focus on production and export, especially agricultural production.
 
Basic construction should get priority in disbursement of funds, and traffic, irrigation, and hydroelectric projects have to be monitored carefully, he said.
 
On the subject of the A/H1N1 flu that is still spreading in the country, Mr.Dung said authorities have to keep a close eye on the situation so that people do not panic.
 
At the briefing, Mr.Phuc assured the media that the flu outbreak could be contained.
 
Petrol companies have asked the Government to raise petroleum prices by VND500-1,000 a liter. Asked about this, Deputy Minister of Finance Nguyen Cong Nghiep said the Ministry has to consider it carefully because it relates to public benefit.
 
Though petrol prices are now market-driven, the Government continues to monitor them to avoid economic shocks.
 
Exports declined 13.4 percent year on year in the seven months ending July to US$32.35 billion against the Government's target for this year of a 3 percent increase.
 
Asked if the target can be achieved and the decline would affect economic growth, Deputy Minister of Industry and Trade Do Huu Hao said exports were higher than last year in volume terms but earnings fell due to a sharp decrease in prices.
 
The price decrease affected exports to the tune of over US$6 billion, he said, admitting they are unlikely to expand by 3 percent this year.
 
But he said: "GDP growth can reach 5-5.2 percent in 2009."
 
He also announced that the Government would allow more rice exports this year than last.
 
Draft decrees on establishment, organization, operation, and management of State-owned conglomerates were also discussed at the Government meeting.
 
Pham Viet Muon, deputy head of the Government Office, told the media that the conglomerates would be allowed to fix their own salaries to retain talent.
 
They would be temporarily overseen by ministries until a special agency is set up to manage them, he added.