Prime Minister Nguyen Tan Dung has asked Vinashin to play the core role in transforming the shipbuilding industry into a world giant, thus speeding up national industrialization.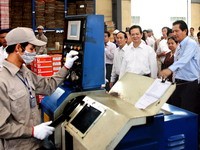 PM Dung is on his field trip to Vinashin
The Government leader expressed his high ambition for the industry during his May 20 field-trip to the Viet Nam Shipbuilding Industry Group's two major shipyards in the northern port city of Hai Phong.
Fully aware of the importance of the sea to national economy and security, the Government has issued a relevant action plan that prioritizes ship-building, oil and gas industry, fisheries and tourism, Dung said.
The PM praised the ship-building industry for making a huge step forwards by managing to construct heavy tonnage vessels with high quality and competitive prices.
"With the building of the second 53,000 ton ship, the Nam Trieu Shipbuilding Corporation under Vinashin has helped develop supportive industries such as the production of welding rods and electricity cables," he said.
The Corporation has won contracts worth a total of US$2 billion for 2010, with orders for the construction of 56,000 ton ships, 150,000 ton oil tankers and freighters capable of carrying almost 7,000 autos aboard.
Earlier in the day, PM Dung had a working session with the executive board of the Hai Phong Equipment Manufacturing and Shipbuilding Co. Ltd under the Viet Nam Machinery Assembling Corporation (Lilama).
He said the Lilama should strive to become a giant in engineering and assembling heavy facilities to contribute to the national industrialization and modernization.