The seminar on "the role of monetary policies in the Vietnamese economy in its post-recession period", which starts today in Da Lat City, is a practical initiative in current conditions of the national economy, President Nguyen Minh Triet said.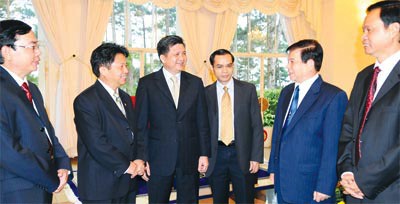 President Nguyen Minh Triet (R, second) with members of the organizing board of the seminar on monetary policies, which opens in Hanoi August 28 (Photo: SGGP)
He made the comment during his visit to Lam Dong Province on August 27, where he met with the organizing board of the seminar, which is jointly held by the State Bank of Vietnam (SBV), the province's People's Committee and Sai Gon Giai Phong (SGGP).
Discussing the agenda with the President, SBV Governor Nguyen Van Giau said: "The seminar is aimed at discussing what impacts the global economic crisis has had on the Vietnamese economy, assessing the macro-economic conditions, production and trade activities, and giving monetary and financial forecasts."
Experts will then make proposals on monetary and economic policies to help the country meet the growth target set for 2009-2010 and the years to follow, he added.
SGGP Editor-in-Chief, Tran The Tuyen, reported the trend of economic information in the mass media. He also said the newspaper always closely follows important developments in the country to provide information, which helps enforce the Party's and State's policies.
Applauding the organization of the event, the President said: "It is an opportunity for us to listen to opinions from experts, scientists and businesspeople. There may be critical opinions raised. But I believe that with a constructive spirit, and for the sake of the country, the participants will provide practical solutions to the national economy and the country's development."
The same day, President Triet worked with the province's leaders on the implementation of a Politburo resolution on justice reforms.
He also visited the provincial Military Command and Police Department, and the Da Lat Infantry Academy.
Related article:
VN to mull new solutions for post-crisis economy