A year after WTO accession, Viet Nam's economy has made achievements, but problems remain, concluded a Monday workshop held by the Ho Chi Minh City Economic Institute and the Saigon Entrepreneurs magazine.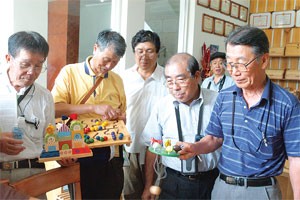 A group of Japanese businessmen tour a shop selling wooden toys in Ho Chi Minh City
No one can deny the positive impacts of Viet Nam's WTO accession. Just a year after joining, there is now US$50 billion of Foreign Direct Investment (FDI) awaiting licenses.
Official Development Assistance (ODA), Foreign Portfolio Investment (FPI), foreign exchange and domestic investment have all seen instant increases. In 2007 alone, FDI pledged to Viet Nam is expected to reach US$17-19 billion.

But is capital gained enough or good enough?

According to an anonymous source within the Ministry of Planning and Investment (MoPI), the rate of FDI disbursement has dropped from 90% in 2000 to 40% in 2006, and 28% in 2007 (FDI disbursements have reached only US$4 billion so far this year).

The state apparatus has not kept up with the radical change of a dynamic economy. Bureaucracy in business registrations, site clearances, construction and taxes hinder investment.

Others say the slow pace of disbursements is caused by congestion, energy shortages and flooding in big cities this year, that extra-ordinary events have worked against the rising tide of FDI commitments.

Aside from the FDI arena, the WTO has also quite apparently improved the nation's export performance. Exports are expected to hit US$48 billion, a 21% annual increase.

One anonymous economist, however, took this for granted, saying it is just a continuation of extant export growth trends preceding WTO accession, not an exclusive impact of joining the WTO.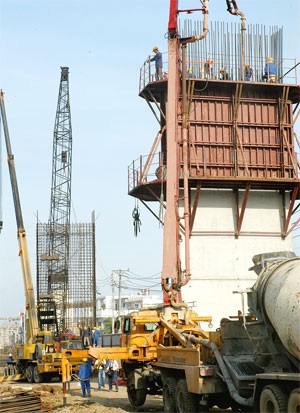 The Phu My bridge in Ho Chi Minh City's District 7 under construction
Imports have reached US$57 billion this year indicating local enterprises are busy preparing for the "big game" after Viet Nam's WTO entry.

Vietnam Economic Institute Vice Head Nguyen Dang Doanh, PhD, noted that while exports grew 21%, the country is remains too dependant on imported raw materials. In 2007, the value of imported maize and soybeans hit US$450 million. Steel ingot and electricity imports bit into the nation's balance of trade even more.

Further, the quality and attendant added value of exports remains low.

Finally, there is the fact that inflation has exceeded GDP growth within this first year of WTO membership – which, notably, implies a negative estimate of "real" or absolute growth.
Experts forecast the Consumer Price Index (CPI) will increase 10.95 percent this year, the highest level in its recorded history.

Though the Ministry of Finance has taken measures to contain price hikes in the second quarter of this year, they could not account for the influence of world prices on local markets and subsequently few effective solutions were made.