The government will continue its efforts to control price in the remaining months of this year. The target for economic growth is 7 percent.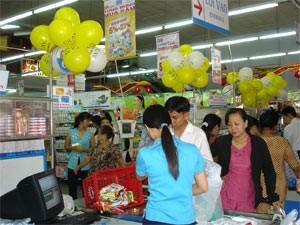 People buy goods at Cong Quynh Coopmart Supermarket in District 1 (Photo: H.Y.)
At a regular meeting held Tuesday and chaired by Prime Minister Nguyen Tan Dung, cabinet members agreed to continue the government's tight monetary policy, measures to ensure the liquidity of the national economy and removal of loan-related difficulties for production and exports.
The Prime Minister asked for a doubling of efforts to narrow the trade deficit, pointing to increased import tariffs on commodities such as completely-built cars, automobile components, gold, cosmetics, and cell phones alongside monitoring closely loans in foreign currencies for exports.
He requested relevant ministries and agencies continue implementing a social welfare policy for poor ethnic minority people, war invalids, families of fallen soldiers and those who have rendered services to the nation.
Mr. Dung asked that the country struggle against the high trade deficit, unstable monetary and financial market, impact of petroleum price hikes, as well as plant and animal diseases.
 
The prime minister highlighted measures for ministries, sectors, localities, offices and enterprises to implement between now and the end of the year:
 
. Prioritize inflation control, resolve difficulties in accessing capital, particularly for production and export, and work towards achieving an economic growth rate of 7 percent.
 
· Prioritize capital funds for key construction projects set for immediate operation and delay unnecessary projects.
 
. Monitor organizations and individuals that control prices; Root out and manage speculation activities.
 
· Control the trade deficit by raising import taxes on luxury items.
 
· State-owned enterprises should focus on development and raising productivity and business performance, while working toward equitization.
 
The price of electricity, coal, fresh water and bus fares must remain unchanged until the end of the year, he said.
 
In addition, he requested sufficient supplies of commodities for production and consumption.
 
Deputy Finance Minister Tran Xuan Ha said the Finance and Trade and Industry ministries have kept a close watch on the petrol market so that they can advise the government on an appropriate policy on petrol prices.
 
The government will not subsidize prices for fuel is a business product.
The value of industrial production rose 16.4 percent to VND382 trillion in the past seven months, according to the Ministry of Planning and Investment, the Finance Ministry and the General Statistics Office.
The country earned US$37 million from exports, an increase of 38 percent compared to last year.
Meanwhile imports had a year-on-year surge of 57 percent, totaling US$51.9 million and causing a trade deficit of more than US$15 billion.
Foreign direct investment reached US$45.2 billion in the reviewed period, a rise of 370 percent from last year.
The consumer price index rose by 1.13 percent in July and was up by 19.8 percent compared to last year.
In the past seven months, 92,000 people gained employment and 50,000 people went abroad to work.