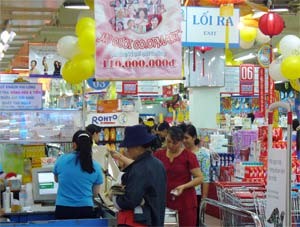 Vietnamese consumers still cannot expect goods prices to decrease just two months after joining the WTO. (Photo:TK)
Two months after Viet Nam joined the WTO with its commitments to reduce import tariffs, the price of goods in local markets has not decreased as much as expected despite the fact that foreign producers have begun to flood the market.
According to Mrs. Nguyen Thi Bich, Head of the International Cooperation Department under the Ministry of Finance, the Vietnamese public cannot expect prices to decrease across the board just two months after joining the WTO.
To satisfy the local market's high demand over the Tet holidays, many local enterprises signed contracts for imported goods three to six months in advance of the holidays. Thus, most imported products currently on market shelves are still being sold at higher prices, she explained.
Also, even though Viet Nam's import tariffs are being reduced, they are still higher than those in China and some other ASEAN countries, which hinders price reductions at the cash register, Mrs. Bich added.
Mrs. Nguyen Thi Tranh, Deputy Director General of the Saigon Co-op, said that all of the imported products being sold there were priced before the import tariffs were reduced.
Recently, foreign food and confectionary items of various types, mostly from Malaysia, Indonesia, Denmark, France and the US, have been priced at high levels.
When will prices decrease?
When asked when the public could expect to see the prices of foreign products go down, Mrs. Tranh said the Saigon Co-op is consulting with their foreign suppliers to consider tax policies and WTO rules before making business plans.
She said that once negotiations are finished new product shipments will begin to arrive with the result that prices should decrease considerably by the second or third quarter this year.
Under its WTO commitments, Viet Nam will have to reduce import tariffs by 23% on average in 5-7-year phases. Among 10,600 categories of import tariffs for goods and services, about 3,800 will be reduced. Areas seeing the strongest reductions are textiles and garments at 63%, footwear 20%, vegetables 40%, cosmetics 20-40%, plastics 20%, timber and paper 10% and electronic products 20%. Over the first two months of 2007, Viet Nam has imported roughly US$1.1 billion worth of goods.