As prices of agricultural products fell again, those of industrial products were soaring in Ho Chi Minh City yesterday. Swings of 5-10 percent were not uncommon.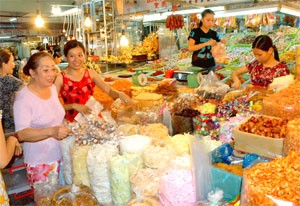 Sweets have kept rising and might not stop till the Lunar New Year
To stabilize prices, the Ministry of Industry and Trade has ordered retailers and distributors to not hike prices unreasonably.

At Tran Chanh Chieu market in District 5, chicken prices fell VND3,000-5,000 a kilo over the week [US$1=VND16,117].

Pork shed another VND1,000/kg from the previous day, leaving pork VND7,000 cheaper than at the month's outset.

Other agricultural products, like sugar, rice and beans, slipped by VND100-200/kg from last week.

Foodstuffs for the Xmas and New Year holidays like sweets, beverages and canned foods have kept rising and might not stop till the Lunar New Year, which falls on February next year, especially beer and cookies.
Beer and cookie prices are up 5-10 percent from early November. Heineken and 333 beers are up VND5,000-10,000 per box to VND180,000-185,000 and VND277,000, respectively. Malaysia's Popmix cookies now go for VND42,500 per 800-gram box, up VND5,500 over last year.

The Vietnam Dairy Products JSC (Vinamilk) yesterday announced that it would raise prices of powdered, fresh and condensed milk by five percent as of December 15, even though Vinamilk has raised its prices several times this year.

Vinamilk's 250 ml paper bag of fresh milk was VND3,900, up VND300 against early this year.

Gold was also up. Sai Gon Jewelry Company (SJC) gold was sold at VND15.76-15.78 million per tael, yesterday, up VND130,000-150,000 against the previous day.

To stabilize the market prices, the Ministry of Industry and Trade has directed provincial trade departments to ask enterprises and traders not to increase prices of goods and add to the psychological impact of Government having already raised petrol prices.

The ministry instructed market management units to monitor and curb abusive price hikes in goods rationalized by petrol price increases, especially for daily essentials.

The ministry has also directed enterprises to boost production to meet demand and try reducing production expenses to lower costs.