Consumer prices in August rose 0.47 percent in Hanoi and 0.22 percent in Ho Chi Minh City.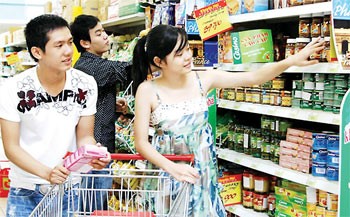 Big C Supermarket in HCMC's Phu Nhuan District. The city saw prices rise by an 0.22 percent in August, less than half the rate in Hanoi (Photo: SGGP)
The Hanoi Statistics Office said housing prices saw the steepest rise, following several hikes in construction steel prices.

In June prices had risen 0.91 percent and in July 0.77 percent.

If based on prices at the end of last year inflation in August was a more moderate 0.36 percent.

Meanwhile, the HCMC Statistics Office said prices had risen by an average of 0.50 percent in the first eight months against 2.27 percent in the same period last year.
Housing-electricity-water-fuel posted the highest increase of 1.08 percent and transport-post-telecom services became 1.1 percent more expensive.
Garment-headwear-footwear and household equipment and utensils saw an increase of 0.74 percent.
Foodstuff became cheaper, with beef prices falling by 1.23 percent, poultry by 0.75 percent, seafood by 0.46 percent, and vegetables by 1.43 percent.
But processed-meat prices rose by 0.48 percent, eggs by 0.51 percent, processed seafood by 1.36 percent, and fruits by 0.73 percent.