Businesses are expected to have big but challenging opportunities in 2016. To help businesses to overcome difficulties, the Government still needs to promote reform, support, and motivate development of private sector.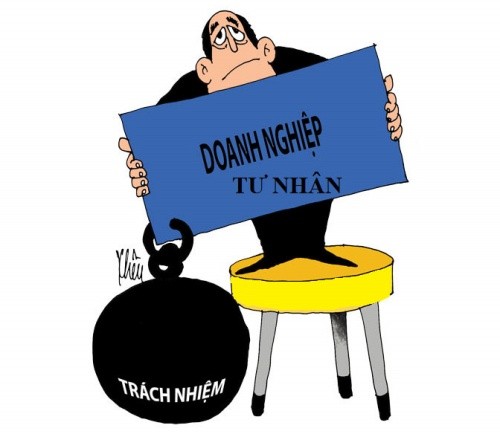 Generally, the economy achieved several encouraging results in 2015 as 13 out of 14 economic norms that set by the National Assembly reached the targets and even exceeded the plan. Noticeably, gross domestic product hit 6.68 percent, much higher than a plan target of 6.2 percent, and consumer price index rose 0.63 percent while its plan target was 5 percent.

From the angle of businesses, business community had seen a great deal of changes in regulations, business environment as well as economic integration in 2015. The new Enterprise Code and Investment Code have created a new lease of life for business world. According to the Ministry of Planning and Investment's estimation, there were more than 94,700 newly-established companies in 2015, the highest level in the history of Vietnamese business community. Moreover, more than 21,500 companies had resumed operations, up 39.5 percent over the previous month. Positive changes in the economy along with the Government's solutions and determination to improve business environment had showed effects, helping businesses to overcome difficulties.

As for integration, 2015 can be considered as the year of integration of Vietnam. The country had officially joined historic agreements, including Trans-Pacific Partnership and the free trade agreement with the EU. When participating in the playground with big partners, the country's economy will definitely experience many changes.
The Enterprise Code, Investment Code, and Resolution 19 about improving business environment and national competitiveness, and Resolution 36a about electronic-government implementation are important factors to make business environment become better. However, in reality, coordination and synchronicity among ministries, industries, local authorities and all administrative levels remain poor, which are obstructions needed to remove.

Regulation reform, generally, has gained optimistic results but yet to meet business community's expectation. Recent surveys of the VCCI on administrative reform, especially in the fields of tax and customs, show a paradox that the bigger a private business is the higher the administrative formalities cost. The larger a firm's scale and the more successful it is, the more inspections it suffers. This has made Vietnamese firms unable to develop, causing average scale of Vietnamese businesses to lessen according to recently released statistic figures.
Currently, the most alarming obstruction is from the key influential sector – domestic private sector. In other words, private sector is on its own while the country's economy is in integration. Supporting policies to develop private sector were ineffective and failed to spread widely and root into vicinal economy. Small and medium businesses remained outsiders of global value chains. If they do participate in the global value chains, they merely stop at the step of using cheap and incompetent labor. The incompetence of vocational training and the quality of human resources are the main problem.

At present, local firms have been suffering higher cost of administrative formalities than other countries. Cost burden is topping risk and blocking the improvement of businesses' competitiveness. Therefore, the Resolution 19 as well as Enterprise Code and Investment Code should be implemented thoroughly so as to reduce as much as possible time, money, and risk for firms. Thence, firms are able to focus on manufacturing. Long-term investment and cost reduction help firms to increase their competitiveness.

This year, it is important to provide information on time for firms and guide them to properly enforce the newly signed free trade agreements. Accordingly, it requires tight cooperation among the Vietnam Chamber of Commerce and Industry (VCCI), business associations, and government agencies.

In order to promote integration, VCCI has suggested department of commerce and industry, local and international business associations to form business alliances to impulse the participation of private firms in the value chains of transnational corporations and foreign direct investment firms.

Firms should search for information about integration, market, and legal procedures in order to protect themselves and make use of it in accordance with Vietnamese law and international general rules because commercial disputes and anti-dumping lawsuits may occur frequently. Therefore, firms should equip themselves with necessary knowledge so that they will be able to cope with possible commercial disputes. VCCI has established WTO Center as well as Commercial Consultant Council which gathers leading experts in this field to support and provide information for businesses.

In order to foster development of private companies and improve the quality of new businesses, the Government should run a national program on startup. The State should encourage, create favorable conditions, and share risks with businesses. The models of breeding ground for businesses, venture capital, and angel investor should be spread widely to support startup movement among youngsters, turning Vietnam into a startup country.