Portcoast Consultant Corporation has presented a project report to the Ministry of Transport on ways to enhance effectiveness of the 5th Seaport Group and the Cai Mep-Thi Vai Seaport Complex, which is currently facing a severe paucity of goods to fully function.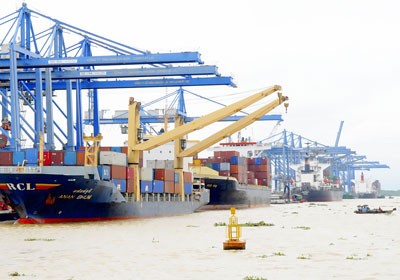 Shipping operation at Cat Lai Port in HCMC (Photo: SGGP)
According to the project report, construction of seaports at the Cai Mep-Thi Vai Complex to allow 16 direct routes to America and Europe is an important step towards reducing dependence on transit ports in Singapore and Hongkong (China).
However, paucity of goods has curtailed the number of direct routings from 16 to 12 in 2011 and to eight in 2012.
Reason for this is the construction of ports in the complex not in accordance with initial Government plan to reduce the number of ports concentrated in Ho Chi Minh City.
When new ports at Cai Mep-Thi Vai Complex came into operation, goods were still mainly transported via seaports in Ho Chi Minh City.
The project now proposes some solutions to improve effectiveness at Cai Mep-Thi Vai Complex and for 5th Seaport Group also. Specifically, the Ministry of Transport should not license building of new container ports, particularly at Cai Mep-Thi Vai.
After 2015, relevant organs will estimate the market supply and demand to develop the next phase at the port, from 2015-2018.
The Ministry should only approve construction of new ports for already built industrial zones where there are no ports.
In the long term, the Ministry of Transport will work with local authorities in HCMC, Ba Ria-Vung Tau and Dong Nai Province, where the 5th Seaport Group is located, to estimate the demand, and plan development accordingly.
The Ministry should also use macro policies of the Government to regulate goods volumes among ports in the Group and permit a certain number of foreign shipping companies to transport domestic commodities via Cai Mep-Thi Vai Complex.
Relevant organs should study a model of port authority for the 5th Seaport Group. The port authority will manage and regulate operations of ports and should also set up a port management board, which will map out plans to invest in the port system with a view of the market demand.
Related article:
Paucity of goods at Cai Mep-Thi Vai Seaport Complex