The Trans-Pacific Partnership (TPP) deal will have a positive impact on the domestic real estate market, while the property market has recovered in the third quarter, experts said.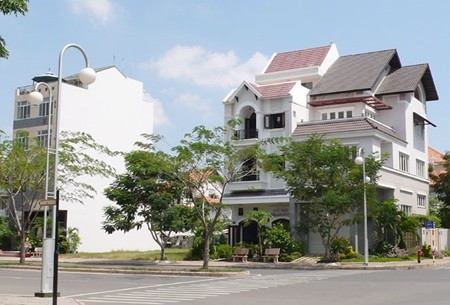 A villa at the Phu My Hung new urban area in HCM City. The TPP deal is expected to have a positive impact on the domestic property market. — VNS Photo Viet Thanh
The TPP deal has been struck after five years of negotiations. It is expected that the deal would promote growth of the domestic economy and the property market, Do Thu Hang, head of research and consultancy at Savills Viet Nam's Ha Noi branch, said at its press conference on Ha Noi's property market in the third quarter in Ha Noi on Thursday.
"However, the TPP deal cannot affect the local property market in the short term because the deal needs to be ratified by TPP member countries, and Viet Nam needs time to have specific policies that are adjusted following the TPP commitments.
"The deal will have positive impacts on the economy in general and the property market in particular in the medium and long-term periods."
Property in industrial zones will directly benefit from the TPP. The foreign companies of TPP countries would increase investment in Viet Nam and move their production work here to get advantages in production and business from the TPP commitments, Hang said.
The serviced apartment segment will also benefit because after moving their business to Viet Nam, the foreign investors and workers will need rented apartments to work and live here in the long-term period.
The market for offices for lease would be also affected by the high demand for operational offices when foreign investors increase investment in Viet Nam, she said.
The retail market would attract more investors because the TPP deal would promote export activities among member countries, including Viet Nam.
That meant the other TPP countries would increase exports of consumer goods to Viet Nam and would need to open a retail system here, leading to growth of the local retail property market, she said.
The apartments-for-sale segment would see positive developments after the TPP comes into effect, Hang said. Foreign investors and workers would consider buying property when they plan to work for a long period in Viet Nam.
The country had amended existing laws to encourage foreigners to buy property here since July 2015, she said.
But as of now and for a short – term period, foreigners wanting to buy property in Viet Nam are just studying the market without purchasing any because the state is yet to finalise the regulations guiding the implementation of the amended laws, according to Hang.
Chairman of Keller Williams Commercial Northern Viet Nam Pham Hai Dang said he agreed with expectations about a positive development of the local property market after the TPP comes into effect, bizlive.vn reported.
Foreign enterprises would come to Viet Nam to develop their production and business activities, including building of factories and warehouses, creation of jobs, along with increase in demand for support industries and services. The services comprised hotels, trading centres, offices and serviced apartments, he said.
M&A deals in property segments such as hotels, offices, retail units and resorts were expected to develop strongly in the future, he said. The TPP, especially, would promote development of property in industrial zones.
Market growth
Some 30,000 real estate transactions were recorded in the first nine months of 2015, similar to the figure for the whole of 2014, Chairman of the Viet Nam Real Estate Association Nguyen Tran Nam said at a seminar on housing development in Can Tho City on Wednesday.
He said the real estate market had skyrocketed and the number of real estate transactions this year was expected to be double that of 2014, vietnamplus.vn reported.
Several new government policies and regulations, coupled with high confidence in the sector's outlook, have convinced investors and customers to return to the market.
According to Savills Viet Nam's report on the Ha Noi property market in the third quarter released on Thursday, more than 6,650 apartment units were sold, with the transactions increasing by 44 per cent quarter-on-quarter (QoQ). Absorption increased 11 percentage points (ppts) QoQ to 45 per cent.
Projects of good quality, reliable developers and sufficient facilities have become popular.
In the last quarter of 2015, sales might remain at a high level due to increasing cash flow from overseas remittances, credit balance in the real estate sector and year-end housing ownership preferences, Savills Viet Nam said.
Meanwhile, in the third quarter of this year, approximately 5,220 apartment units were sold in HCM City, an increase of four per cent QoQ and 59 per cent year-on-year (YoY). However, the overall absorption rate was down two ppts QoQ and YoY, according to the Savills Viet Nam's report on HCM City property market in the third quarter.
Districts 2, 7 and Binh Thanh continued to perform well, accounting for 53 per cent of the total transaction volume.
Projects in strategic locations by reputed developers attracted purchasers.
Infrastructure development and good urban planning will improve the connectivity of new urban districts to the city centre, contributing to higher sales rates.
Purchasers can benefit from relatively low home loan interest rates, direct discounts and prolonged payment schedules. The stable yield and rental capacity in well-developed areas have encouraged buy-to-let investors.
Analysts reject fears of a bubble
Industry experts were confident that Viet Nam's property market was not experiencing a bubble, although the increase in liquidity in the first nine months of this year has triggered concern.
Deputy Director of the Department of Housing and Real Estate Management under the Ministry of Construction Vu Van Phan said there were no signs of a bubble in the country's real estate market.
Phan said at a discussion at the Global Investment Forum, jointly held by the Ministry of Planning and Investment and Euromoney, that a property bubble occurs when prices continually soar.
However, real estate prices are seeing a stable trend, Phan said, adding that only high-quality projects were attracting price increases.
Cheong Ho Kuan, executive director of Gamuda Land Viet Nam, was quoted by Dau Tu Bat Dong San (Property Investment) newspaper as saying that there was no need to worry about a property bubble in Viet Nam at the moment, given the country's macroeconomic stability and the huge housing demand from the country's young population.
Many experts have said they saw opportunities to pour investment into the property market, from the high-end to the popular segments.
Minister of Construction Trinh Dinh Dung in July said the ministry would closely watch market developments to prevent the occurrence of a bubble.