The Viet Nam National Oil and Gas Group (PetroVietnam) and Murphy Oil Corporation have signed a memorandum of understanding (MoU) in Washington D.C to boost co-operation in oil and gas projects.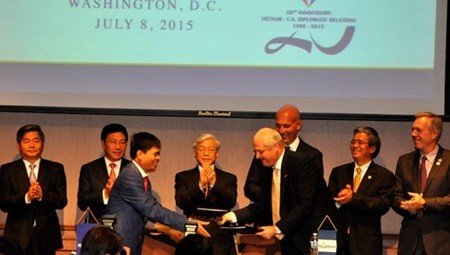 Representatives of the Viet Nam National Oil and Gas Group and Murphy Oil Corporation signed a memorandum of understanding to boost cooperation in oil and gas projects on July 8 in the US. (Photo: VNA/VNS)
The MoU was signed by Petrovietnam Chairman Nguyen Xuan Son and the President and CEO of Murphy Oil Corporation, Roger W. Jenkins, on the occasion of Party General Secretary Nguyen Phu Trong's visit to the United States.
Murphy has financial potential, expertise and the technology for exploring, surveying and exploiting oil and gas, especially in new areas and on deep-sea sites.
The corporation sees the Vietnamese market as an area with long-term development potential and values PetroVietnam as a dynamic and effective partner.
Murphy Oil Corporation is especially interested in participating in the development of the Block B gas project, the Malaysia-Tho Chu basin in Viet Nam and a number of blocks in Cuu Long basin.
The corporation has invited PetroVietnam to take part in its projects in Mexico Bay.
Son and his entourage also met the Vice Chairman of ExxonMobil for the Asia-Pacific region, Raymond E. Jones, and other senior officials at the Washington Hilton on the same day.
During the meeting, Jones greatly appreciated PetroVietnam's efforts, along with ExxonMobil, to advance the Ca Voi Xanh (Blue Whale) project, located off the coast of Viet Nam. He spoke of the project's progress so far and about preparations to draw up plans for the gas field in future.
Son affirmed that a cooperation agreement and contracts signed with ExxonMobil would be implemented with the aim of the two companies sharing and creating the most favourable conditions to develop together.
He urged ExxonMobil to use advanced technologies to exploit the gas field in the most effective way, minimising spending and lowering costs.
He said the two sides should work together to find answers to issues such as gas consumption, the price of gas and commercial conditions. It was necessary to take the initiative to find gas consumers who can use the gas most economically, he said.
PetrovVetnam would ask the Vietnamese Government to find ways to build gas-fired power plants in the central region, as well as draw up policies to help gas consumers develop their operations in the region, he said. It would also propose investment incentives to develop the project, he added.
In 2013, an agreement on the Ca Voi Xanh platform development project was signed between the two companies in Washington D.C., with the aim of creating a schedule, a strategy and an overall plan for the project.
The project is scheduled to begin supplying gas and power by 2021.