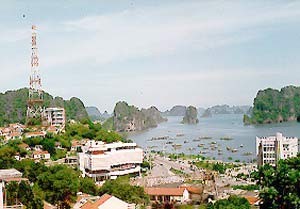 Overview of the north-eastern Quang Ninh's Cai Lan port
The north-eastern province of Quang Ninh is trying to attract more investment from both domestic and foreign sources, a senior provincial official said.
165 kilometers north-east of Ha Noi, Quang Ninh, with an area of 6,110 square kilometers and a 250km coastline also includes the UNESCO-recognized Ha Long Bay area. The region is also rich in mineral resources, especially coal.
Mr. Nguyen Duy Hung, Permanent Deputy Secretary General of the Quang Ninh Provincial Party Committee, said that after surveying the area, foreign investors have decided to invest in the flourishing Van Don economic zone, an archipelago consisting of nearly 60,000ha with a wide variety of flora and fauna and large economic potential.
Another foreign economic group has also planned to build a sea-port and industrial complex with an initial investment capital reaching US$7 billion.
New ports will lure more domestic / foreign ships
According to Mr. Hung, the Cai Lan deep-water port (the first of its kind in Viet Nam), combined with other ports in the province such as Cua Ong and Lach Huyen, are encouraging a wave of investment and shipments into Quang Ninh.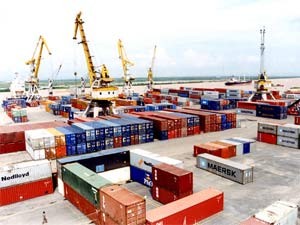 Containers are downloaded at the Cai Lan Port of Quang Ninh province.
He said the ports are equipped with advanced quayside cranes and container trucks. The 13m-deep Cai Lan port will be capable of handling ships bearing between 30,000-40,000 tons of cargo, while Cua Ong and Lach Huyen are capable of supporting ships with 30,000-60,000 tons.
The Hai Ha economic zone, just 40 kilometers away from the Viet Nam-China border, has also drawn much attention from domestic corporations and state-owned groups. The state-owned Viet Nam Ship Building Corporation (Vinashin) for instance, has begun construction of what will be the biggest shipyard in the country there.
Apart from Vinashin, other investors, such as the Viet Nam Coal and Mineral Industry Group, the Viet Nam Petrol Corporation, the Bank for Investment and Development of Viet Nam, the Viet Nam Machinery Installation Corporation, and the Ha Long Investment and Development Company have decided to invest in the region as well.
According to Mr. Hung, in 2008 Mong Cai will be poised to become the first border city of Viet Nam with China. The border crossing already provides access to the lucrative Chinese market with the value of goods flowing over the border in both directions having amounted to roughly US$2.7 billion in 2006.
However, he said that both the ports and border-crossing still face many difficulties, including an inadequate road and rail system to connect them with the rest of the country. For example, National Highway 18, despite being upgraded recently, often suffers from traffic congestion.
In an effort to increase the amount of shipments through the port and increase import-export activities with China, local authorities said they will strive to create better land transport networks and a more transparent and streamlined administrative system in order to encourage more foreign investment.