Local network providers are racing to develop 4G service as they await the green light from the Ministry of Information and Communications, which has not yet put out bids to choose providers.

The ministry said the bids could be opened by the end of this year or early next year.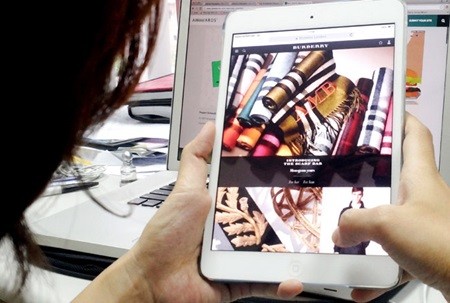 Local network providers are racing against time to develop 4G service in Viet Nam. The service is expected to help users receive faster internet. — Photo Doan Tung
Shortly after Viettel told media that it would trial 4G service this October, Vinaphone announced it would also trial this service soon.
MobiFone has not made an official announcement, but it also revealed plans to develop 4G.
In June, Viettel proposed that the ministry grant a licence for its 4G service this year. It was the first company to officially announce its plans for 4G in Vietnam, a service it has also piloted in Laos and Cambodia.
The telecom group expects to provide 4G service at the beginning of 2016 if the ministry agrees.
Viettel customers will have to change SIM cards if they want to use 4G services, but phone numbers will remain the same.
Viettel said its 4G network would initially cover the biggest towns, districts, provinces and cities nationwide.
By the end of this year or in the first quarter of next year, the firm will finish installing 12,000 4G stations.
Meanwhile, MobiFone named 4G technology development among its top priorities in its development strategy for the 2015-20 period.
The network provider also sent a licence proposal to MIC for 4G LTE (long-term evolution) service on 1800 MHz band beginning next year.
MobiFone also has plans to provide value-added services on its 4G infrastructure, focusing on network planning and optimising costs.
4G prices attractive
Do Minh Phuong, deputy director of Viettel Group, said in a recent report that Viettel will only differentiate between calling and data charges, but will not have separate prices for 3G and 4G services.
While there will not be a specific charge for 4G service, separate data charges will apply.
For instance, if data for 1 gigabyte (GB) of 3G costs VND5,000 (US$0.2), 1GB of 4G will cost $0.2 or less, the Dau tu (Investment) newspaper reported.
The newspaper quoted Thieu Phuong Nam, country manager of Qualcomm Viet Nam, Cambodia and Laos, as saying that 3G and 4G packages were different in many countries in the world, depending on each network provider's business model.
However, most network providers sell data services base on used volume, with no distinction between 3G and 4G services.
The downloading speed of 4G is faster than 3G, and thus the data volume used will increase sharply.
As a result, small data packages will run out soon, and users will have to buy bigger packages, which creates a new income source for network providers.
Vu Hoang Lien, former head of VNPT's 4G project and chairman of the Viet Nam Internet Association, said the cost of 4G should theoretically be cheaper than the cost of 3G. However, 3G prices in Viet Nam were already comparatively cheap, as network providers lowered the price to compete with rivals. Therefore, it was difficult for providers to hike costs for 4G, he said.
Moreover, subscribers would have to use more data when using 4G, resulting in higher total costs, Lien added.
The price would also depend on each provider's business model and its customers, said Thieu Phuong Nam.
For customers in big cities like Ha Noi and HCM City, the price would not be a major sticking point.
However, for those with lower incomes, the price should be considered, Nam said.
Viet Nam has nearly 30 million 3G subscribers, which make up a large share of telecom providers' profits.