Vietnam Railway Corporation (VNR) on January 5 reported that the company saw a strong year on year reduction in output and revenue last year, making the third year in a row of revenue fall.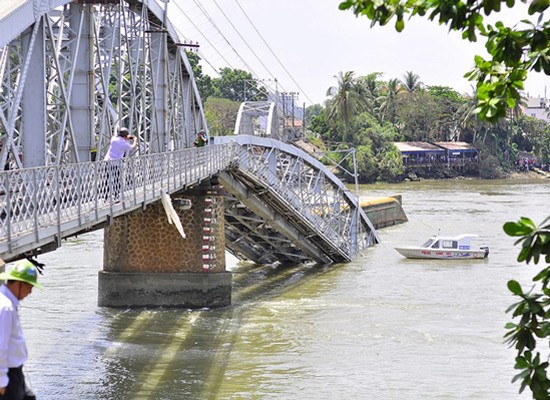 The scene of the Ghenh Bridge collapse early last year (Photo: SGGP)
Specifically, revenue of the corporation and member companies reached VND8,338 billion (US$337 million), accounting for 88.8 percent of plan and after tax profit was expected to reach only VND137 billion ($6 million). VNR got only 85 percent of 2015 revenue and 91 percent plan.
 
Besides the revenue fall, the railway industry failed to implement some key missions including a plan to uniform loading capacity in the North-South railway route.
 
The industry's leaders attributed the revenue drop to Ghenh Bridge collapse and Formosa sea environmental disaster. In addition, railway companies have yet to catch up with market demand and provide warehouse to warehouse cargo transport. Freights have been uncompetitive.
 
Some member companies have been restructured and transferred into new operation models with low performance results.
 
This year, the industry sets a target of 8 percent revenue growth and profit after tax of VND138 billion.
 
Deputy Minister of Transport Nguyen Ngoc Dong said that the main target of the railway industry in 2017 was to sustain stable operation and put an end to the revenue reduction.
 
The most important mission is to well exploit existing infrastructure, ensure traffic safety and apply new technologies in transport organization, he emphasized.