Raw material prices for the steel and packaging industry have shot up a great deal, causing much difficulty and financial pressure on manufacturing companies in Ho Chi Minh City.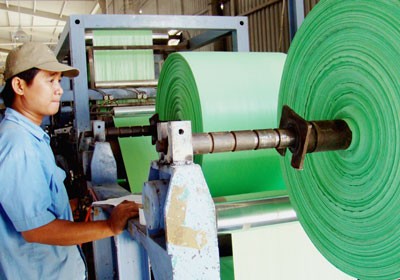 Several packaging companies are facing difficulty due to increase in raw material price (Photo: SGGP)
Despite the current freeze in the real estate market, steel prices have gone up by VND160,000-200,000 per ton to touch VND14.5 million in first week of March.
According to Do Duy Thai, director general of Pomina Steel Company, the steel price hike is due to import price increase on raw material.
Vietnam Steel Association has said that iron ore price has recently rocketed to US$158.5 per ton, the highest level in the last 15 months.
Pham Chi Cuong, chairman of the association, said that the price of raw materials like iron ore, scrap steel and steel billets have escalated due to high demand in China.
At present, the import price of steel billets from South Korea, Russia, Malaysia and Japan has increased by $20-30 per ton to reach $600-620 per ton.
The association reported that domestic steel consumption in February was only 250,000 tons, a reduction of 38 percent over the previous month.
Similarly, the Vietnam Packaging Association said that import material costs have shot up a great deal, while domestic supply has nearly depleted. Businesses do not have any more raw materials for production.
An official from the above association said that import material price has gone up by 40-50 percent, causing manufacturers a loss of VND1.1 million per ton on imports.
The association wants the Government to reduce import tariff to below 25 percent, after which it can increase the import volume from 10 percent to 40-50 percent to deal with the current shortage.
Packaging manufacturers and traders are lamenting on the low consumption, raw material prices and scarcity, which has led several to stop operations altogether.
Above all this, overheads on water, electricity, transportation and wages have placed a heavy financial burden on businesses.