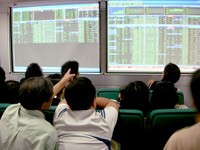 The improvement of stock market partly led to the quietness in real property market. (Photo: TC)
Reduction in property transaction led to downturn of real estate market during the past two years
.
Policy of town planning has changed. Gold price always fluctuates. Stock market is booming... Those are main factors contributing to a slump in real estate transactions, affirmed experts at a conference on real estate, hosted by Ministry of Finance in conjunction with Ministry of Environment And Natural Resources on March 24, 2006.
The price of real estate and land is still exorbitant and unaffordable to most people, despite reports that supplying is getting larger than demand.
Thus, housing shortage is still far from over to some extent.