Statistics from the Ho Chi Minh City Real Estate Association (HoREA) show that the number of real estate transactions in the city showed sign of slowdown in the first quarter this year over last year.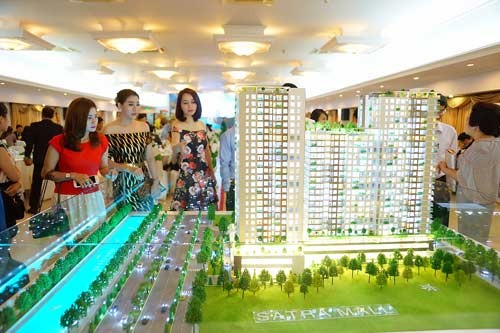 Customers learn about Viva Riverside project for good income people(Photo: SGGP)
In addition, the property market has seen the supernumerary supply of high class products but shortage of popular products for low income people.
Explaining the slowdown, HoREA said the main cause is from the State Bank of Vietnam (SBV)'s announcement on a draft circular to revise Circular 36 to limit credit flow into the real estate market and risks in property trading. The circular's revision signals that banks and investors must restructure their investments to ensure the market's healthy development.
Previously, the Government officially required SBV to amend the circular to suit practical conditions.
According to HoREA, the circular's revision is necessary because it is time to implement credit policies carefully and tighten management over the real estate market. These include cut of short term capital use for medium and long term loans and increase of the risk coefficient of real estate loans.
However, chairman of HoREA Le Hoang Chau proposed that the revised circular should take effect in 2017 for related sides to adjust and rationalize operation and prevent a shock to the market.
Deputy Prime Minister Vu Van Ninh on July 7, last year also instructed to implement the policy in a suitable direction and route in accordance with international practice to ensure the safety for credit institutions, Mr. Chau said.
HoREA also proposed to keep the risk coefficient of real estate loans unchanged at 150 percent as present instead of increasing to 250 percent as per the draft circular. The use ratio of short term capital for medium and long term loans should be lowered to 50 percent instead of 40 percent.
Talking about other reasons for the slowdown, the association said that SBV issued a document to stop receiving loan applications to the housing credit package of VND30 trillion (US$1.34 billion) on March 31.
In addition, many commercial banks have raised deposit rate to 8 percent a year for term of over 12 months, leading to the possibility that loan interest rate hike of 1-2 percent this year.
Meantime, "health" of real estate businesses has been week and they still depend on bank loans and capital mobilization from customers, HoREA said.