The Ministry of Public Security has proposed the Government to issue regulations on management rules over transactions of online currencies that are not acknowledged in Vietnam but have publicly taken place.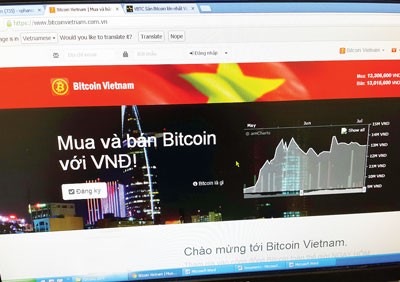 Website of Biticoin Vietnam is publicly operating on July 23
Early this year, the Government and the State Bank of Vietnam addressed that they do not acknowledge and permit use the online currency of Bitcoin as an payment  currency in Vietnam and will not solve disputes related to transactions using the currency. However, the first Bitcoin trading floor was allowed to open in Vietnam by Bitcoin Vietnam Company located in District 8, Ho Chi Minh City and Israeli Bit2C Company.
The floor has so far attracted over 1,700 members and conducted transaction normally while authorized agencies seem to be confused to handle the matter.
Its website www.vbtc.vn on July 23 posted buying price at VND13,492,425 per Bitcoin and selling price at VND12,000,000.
Another website www.bitcoinvietnam.com.vn run by the companies bought at VND13,306,600 and sold at VND13,015,600.
The website announces safe, legal, and reliable transactions and 1,745 members as of July 23.
CEO of Bitcoin Vietnam Tran Phuong Thao said that Bitcoin is not acknowledged by the Government so they had to conduct business registration for trading computers and software and put in Bitcoin.
In the trading floor, Bitcoin hides under an 'Auction brokerage agency' because Bitcoin Vietnam in fact plays the role of connecting buyers and sellers of the online currency.
"We are waiting for the Government to change its conception and permit Bitcoin trading so that we will not have to hide Bitcoin transactions under other business activities any more," she said.
The company believed it is infeasible to ban Bitcoin transactions because residents can exchange the online currency by themselves without passing through any intermediary phase.
 
Besides, while banning Bitcoin, the Government should also issue a ban over other online payment means like Paypal, Vcoin (VTC) and phone cards.

Regulations needed
 
Bitcoin management has so far stopped at warning of risks because there are no regulations to adjust it and transactions are taking place.
 
Several people have chosen that kind of transaction which is quick and convenient without any document requirement, said major general Nguyen Hung Linh, head of the financial, monetary and investment security department under the Ministry of Public Security.
 
However, it is easy for criminals to take advantage of such transactions posing a lot of risks for transactors. Investors will suffer all damage themselves when the website is attacked by hackers for instance, he said.
 
On the other hand, online transaction and payment will lose the Government's management role in the monetary market and affect macroeconomic management.
 
The Ministry of Public Security has hosted several seminars with relevant agencies to seek measures for the use and trade of online currencies in Vietnam.
 
The Ministry has then proposed the Government to issue regulations to manage this field as well as sanctions to handle violations, said Mr. Linh.
 
For instance the State Bank should supplement regulations on trading and payment with online currencies in the Internet, the Ministry of Industry and Trade manages e-commerce activities and trading floors.
 
The Finance Ministry will keep an eye on tax and fee related to online currency transactions and the Ministry of Public Security will investigate and tackle criminal signs, he suggested.