Economic growth rate reached 8.96 percent in Can Tho City in the first half this year, up 0.38 percent year on year while it was 7.4 percent in Hanoi, down 0.27 percent.
According to Le Hung Dung, chairman of the People's Committee in Can Tho City, the city's Consumer Price Index increased 5.89 percent and export turnover hit US$583 million.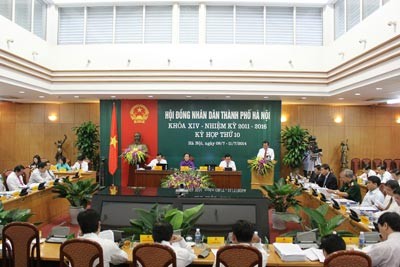 The 10th session of the 14th Hanoi People's Council opens on July 8 (Photo: SGGP)
He was reporting to Deputy Prime Minister Vu Van Ninh at a meeting to the city leaders on local socioeconomic conditions, held on July 8.
In the first six months, the city provided jobs to nearly 22,300 people, accounting for 45 percent of plan, said Dung.
Can Tho City should continue to promote effective production modals in order to linking between production and market demand and applying science and technology, Mr. Ninh said.
The city should also intensify activities to expand the market, fight against smuggling and counterfeits, control inflation amidst volatile petrol prices in the world, and ensure security, national defense and social safety and order.
Hanoi's economic growth reached 7.4 percent in the first half this year, a reduction of 0.27 percent over the same period last year, according to reports at the 10th session of the 14th Hanoi People's Council which was opened on July 8.
Most key economic industries saw the growth rate lower than that in the same period last year and the city's plan.
Hanoi has implemented policies to assist businesses to recover from crisis.