The Ministry of Industry and Trade must accurately assess the various difficulties faced by businesses and create a rescue campaign to bail them out, said delegates at a conference hosted by the Ministry in Ho Chi Minh City on Thursday.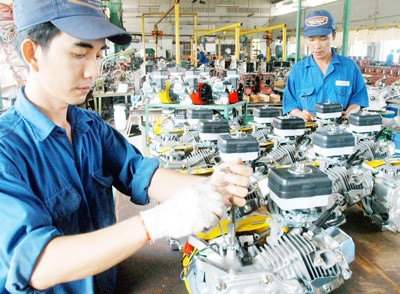 Several businesses are in need of loans to maintain growth in production (Photo: SGGP)
The two day conference aimed to discuss and gather opinion on a draft project of the ministry to resolve difficulties faced by businesses in production and trade.
Nguyen Mai, chairman of the Vietnam Association of Foreign Invested Enterprises, said that he did not believe that only 55,000 businesses had stopped operations as reported by the Ministry of Planning and Investment in April.
Several sources show that more than 100,000 businesses are facing difficulties currently. If this condition prolongs, economic targets set for the period 2011-2015 might never be achieved.
The most important thing now is to save businesses that are on the verge of bankruptcy but still have ability to recover, said Mai.
Agreeing with him, other delegates said that the State should give financial aid instead of only tax benefits, which have not helped much in the past for businesses to improve trade.
Delegates said that the ministry should work with the State Bank on a campaign to rescue ailing businesses.
Departments of industry and trade and branches of the State Bank in provinces and cities must instruct commercial banks and businesses to work together to work on capital funding for businesses.
The Ministry of Industry and Trade should discuss with the State Bank on how to bail out businesses and how they can access credit loans.
The campaign should be carried out so as to help businesses access loans by August and September so that they can recover by 2013.
Nguyen Viet Manh, head of the Credit Department of the State Bank said that it is necessary to resolve imminent difficulties but businesses must also be stable for the long term or difficulties will return after one or two years.
Minister Hoang said that the Ministry will continue to collect opinion for relatively appropriate estimations on the status quo of businesses in order to give suitable solutions.
The campaign will also focus on helping businesses reduce their inventory, and access bank loans to boost production and trade.
The ministry will review inventories in all fields and the number of businesses involved in capital crisis, to put forward proposals to the State Bank, the Ministry of Finance and other ministries to help them.
One of the measures of the campaign will be to reduce inventory so as to speed up progress of approved projects. A stimulation program to raise demand is also being proposed to clear high inventory of some commodities.
Related article:
Ministry struggles to revive economy