The revised Housing Law to take effect from July will open a door widely for foreigners to buy houses in Vietnam, which is hoped to reduce real estate inventory and warm up the market.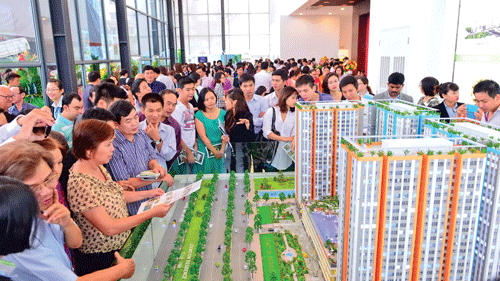 Apartment market has drawn many foreigners' attention (Photo: SGGP)
Statistics by the General Department of Land Administration under the Ministry of Natural Resources and Environment showed that 427 Vietnamese settled abroad and foreigners have possessed houses in Vietnam.
This number is too low compared to over 80,000 foreigners living and working in the country.
Legal barriers and high property prices have blocked the housing door to many foreigners despite high inventory level. 
The number of foreigners and oversea Vietnamese in need of house purchase is very high but only those getting married with Vietnamese have been able to do so, according to a representative from Phu My Hung Joint Venture.
Mrs. Helther from the US has become the first foreigner to get house ownership certificate at Phu My Hung New Urban Area after living in Vietnam for 16 years.
She has learnt about regulations for foreign house buyers and found they are too complicated. "It took me over nine months to buy the house" she told.
In 2009, the National Assembly issued Resolution 19 allowing foreigners to buy and own houses in Vietnam for 5 years. The following year, the Government released Decree 51 permitting foreigners living in Vietnam to possess an apartment at commercial housing projects in 50 years.
However they have showed limitations, resulting in limited foreign house buyers.
Clause 159 in the revised Housing Law allows three groups of foreigners to buy houses. The first are foreign organizations and individuals who invest in housing projects in Vietnam.
The second group comprises foreign invested companies, subsidiaries and representative offices of foreign firms, foreign investment funds, and branches of oversea banks in Vietnam.
The third group includes foreign individuals permitted to enter the country.
Under the new regulations, foreign organizations and individuals are eligible to buy houses, sign hire-purchase contracts, receive property as a present, and have commercial apartments and houses by inheritance.
They are authorized to purchase a maximum of 30 percent of apartments in an apartment block or 250 houses and villas in an administrative unit of ward level.
However they are unpermitted to own houses in areas for national defense and security as per Government's regulations.
The above regulations are expected to help recover the real estate market in the upcoming time.
Many experts said that besides permitting foreigners to buy houses to settle in, the Government should approve them to resell or let the property out. This would further stimulate house purchase demand in high-grade segment which are among those with the highest inventory level.